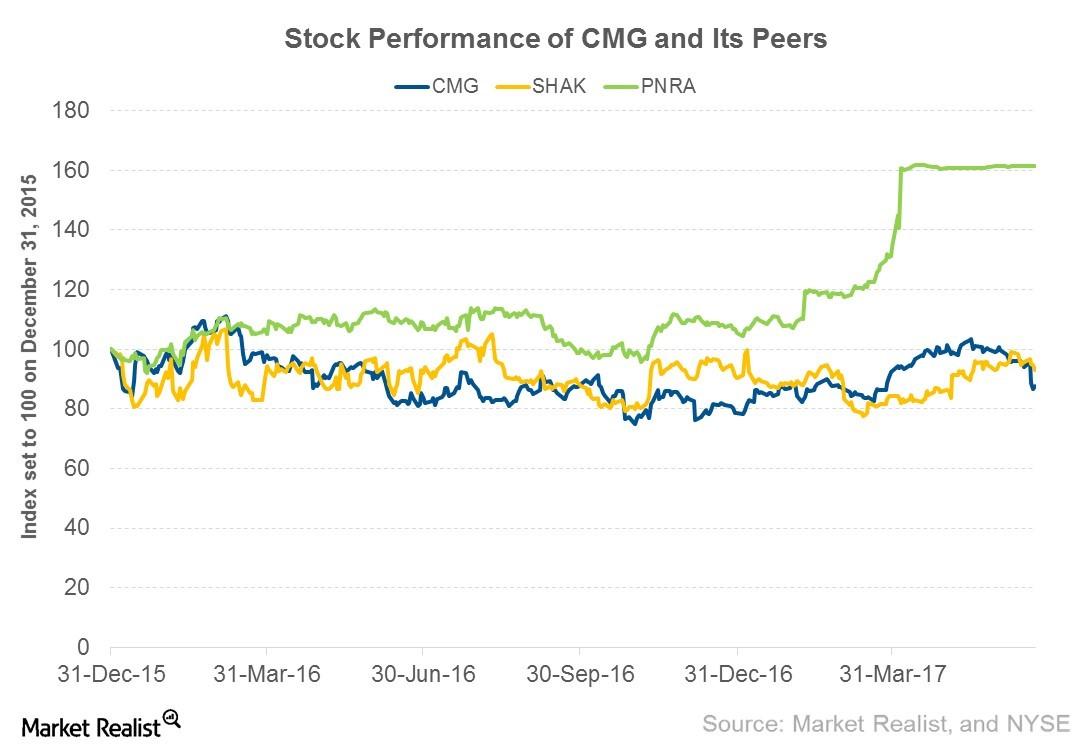 Has Chipotle's Stock Price Bottomed Out?
Stock performance
After posting better-than-expected 1Q17 earnings on April 25, 2017, Chipotle Mexican Grill's (CMG) stock price rose to $496.14 by May 16, 2017. Since then, the stock has experienced downward momentum due to expected competition from fast-food restaurants, which are focusing on improving the quality of menu items and increasing cook-it-yourself meal kits.
On June 19, 2017, Chipotle announced that its marketing and promotional expenses in 2Q17 are expected to rise 0.2%–0.3% compared to 1Q17. However, the company maintained its same-store sales growth guidance for the quarter at high-single digits. The announcement made investors skeptical about Chipotle's future earnings, which caused its stock price to fall. As of June 22, 2017, Chipotle was trading at $420.92—a fall of 10.8% since the announcement of its 1Q17 earnings.
In 1Q17, the company posted adjusted EPS (earnings per share) of $1.60 on revenue of $1.07 billion—compared to analysts' EPS estimate of $1.27 on revenue of $1.05 billion. For a detailed analysis of Chipotle's 1Q17 earnings, read Chipotle Hopes to Continue Its Rally after Strong 1Q17 Results.
Article continues below advertisement
Year-to-date performance
Despite the recent fall in its stock price, Chipotle stock has returned 11.6% year-to-date. Shake Shack (SHAK), and Panera Bread (PNRA) have returned 3.1% and 51.3%, respectively.
Notably, the S&P 500 Index (SPX) and the iShares Russell Mid-Cap Growth ETF (IWP) have returned 8.7% and 11.8%, respectively. IWP has invested 3.5% of its holdings in restaurants and travel companies.
Series overview
In this series, we'll look at the changes in analysts' earnings estimates for the next four quarters, Chipotle's valuation multiple, and analysts' recommendations and target price.
In the next part, we'll discuss Chipotle's earnings estimate for the next four quarters.