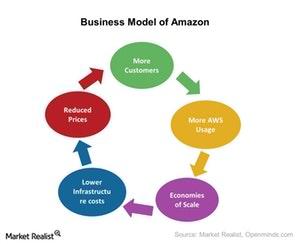 What Bill Miller Thinks about Amazon's Business Model
Amazon's addressable market
We discussed in the previous part that Bill Miller is optimistic about Amazon (AMZN) and its deal with Whole Foods Market (WFM). Amazon has a huge addressable market. According to Miller, Amazon's addressable market is nearly a trillion dollars, while Google (GOOGL) and Facebook's (FB) addressable market is nearly $600 billion.
Article continues below advertisement
Amazon's business model
Amazon isn't tracking only the US online retail market (XRT), it's also tracking the global retail market. It has huge potential and a wide customer base. Amazon is using a unique business model in which customer requirements are specifically identified.
Amazon is focusing on new and advanced technology for its business model. The Amazon Web Services (or AWS) platform is seeing growth in its retail services. If more customers use the AWS platform, then it could increase economies of scale and lower infrastructure costs.
According to a report from CowenHow Whole Foods Could Drive Gains at Amazon, nearly 47% of online grocery shoppers in the US use the Amazon platform. Bill Miller is very optimistic about Amazon's business model. Read, from CowenHow Whole Foods Could Drive Gains at Amazon to learn more.
While Alibaba (BABA) acts as a middleman between sellers and buyers, Amazon is a huge retailer for new and used goods. Its business model signifies that it has the potential to capture even more of the global (ACWI) retail market share.
Performance of Amazon and Whole Foods Market
Whole Foods Market (WFM) has returned nearly 40% on a year-to-date basis as of June 20, 2017. The stock rose nearly 27% within a week after the announcement of the above deal. Amazon returned nearly 31.7% on a year-to-date basis, as of June 20, 2017. The stock hit a fresh new high of $1,013.61 on June 8, 2017.
In the next part of this series, we'll analyze Bill Miller's view on the Fed.