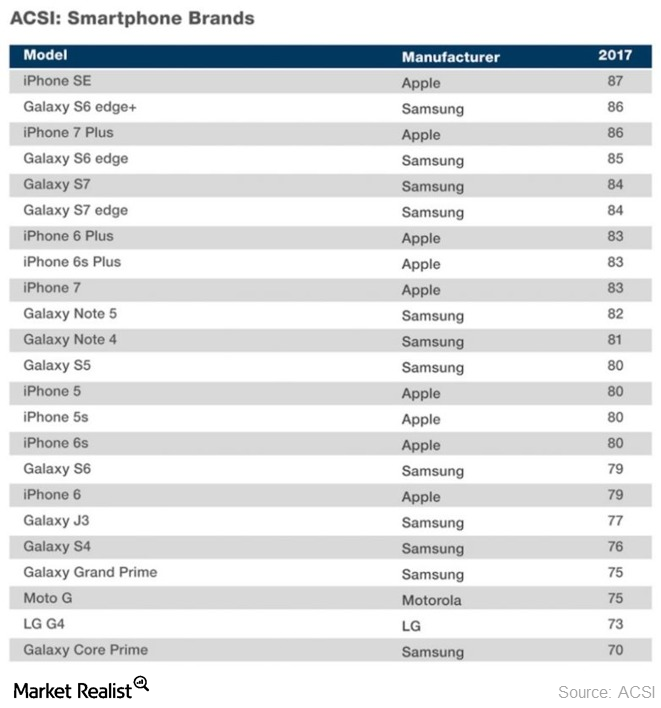 Apple's iPhones Top ACSI's Customer Satisfaction Index
iPhone SE takes the top spot in ACSI survey
According to an ACSI survey, Apple's (AAPL) iPhone SE and iPhone 7 are the highest-rated smartphones in terms of customer satisfaction over the last year in the United States (SPY). ACSI polled over 36,000 customers between May 2016 and April 2017.
The iPhone SE gained the top spot with 87 points, followed by the iPhone 7 Plus and Samsung's (SSNLF) S6 Edge+ tied for second place with 86 points. Three other iPhone models—iPhone 6Plus, iPhone 6S Plus, and iPhone 7—were tied with 83 points and took positions seven through nine.
Article continues below advertisement
According to ACSI's managing director, David VanAmburg, "Over the past few years, the general trend for smartphones has been toward larger screens. Apparently, consumers were craving a new iteration of a smaller, less expensive phone as the iPhone SE – Apple's first update to a 4-inch phone since 2013 – comes in first in ACSI this year."
As seen in the chart above, Apple and Samsung are the most preferred phones with respect to customer satisfaction. Motorola and LG are the only other smartphone manufacturers to appear on this list.
Apple aims to increase customer retention
Apple (AAPL) noted that its focus is to increase customer satisfaction and customer retention. In fiscal 1Q16, Apple experienced a high switch rate from Android (GOOG) users to the iPhone. At that time, the company stated that users also switched to the iPhone from other operating systems such as Microsoft (MSFT) and BlackBerry (BBRY).
In early 2017, a 451 Research survey recorded a 99% customer satisfaction rate for the iPhone 6S and iPhone 6S Plus.