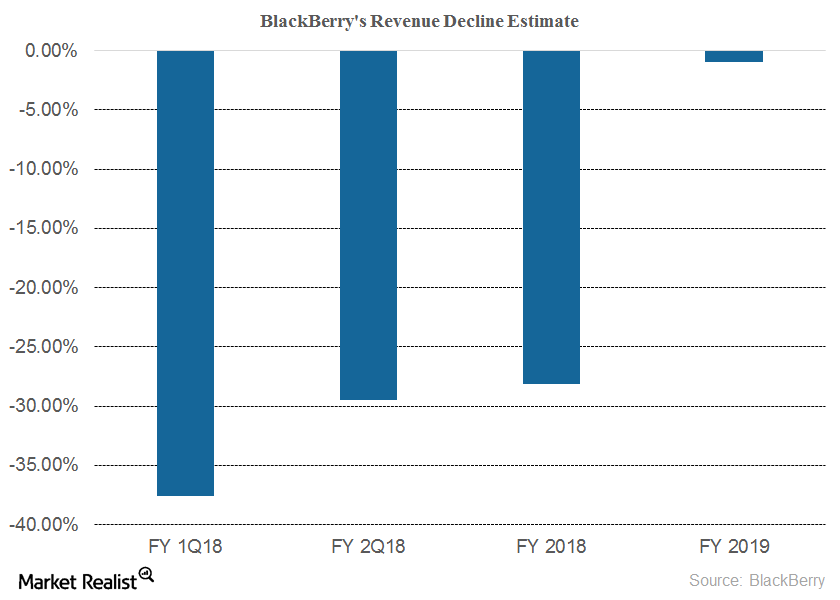 What Do Analysts Expect from BlackBerry in Fiscal 1Q18?
BlackBerry's fiscal 1Q18 estimates
BlackBerry (BBRY), a Canada-based (EWC) technology company, will announce its fiscal 1Q18 results on June 23, 2017. Analysts estimate that the company will post revenue of ~$264.51 million for the quarter ending in May 2017. The low estimate is ~$245.8 million and the high estimate is ~$298 million.
Even if BlackBerry meets analysts' revenue estimate of $264.51 million, it's still a significant YoY (year-over-year) fall of 37.6%. Analysts expect BlackBerry's revenue to fall 29.5% YoY in fiscal 2Q18 and 28.1% YoY in fiscal 2018 to $248.2 million and $987.4 million, respectively.
Analysts estimate that BlackBerry will post EPS (earnings per share) of $0.00 with a high estimate of $0.04 and a low estimate of -$0.02 in fiscal 1Q18.
Article continues below advertisement
How did BlackBerry perform in fiscal 2017?
BlackBerry's revenue fell 39.4% YoY in fiscal 2017 to $1.3 billion from $2.2 billion in fiscal 2016. Investors will be looking at BlackBerry closely over the next few quarters to see if the firm successfully pivoted from its handset business.
BlackBerry has a market cap of $5.53 billion. In comparison, its peers such as Apple (AAPL), Cisco (CSCO), and IBM (IBM) have market caps of $746 billion, $157 billion, and $145 billion, respectively.