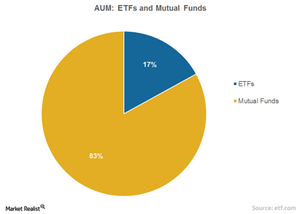 Why ETFs Are Seeing Increased Popularity
By Peter Barnes

Jun. 12 2017, Updated 2:37 p.m. ET
TETF
Additionally, ETFs are still dwarfed by mutual funds, which have about $16.3 trillion in assets, a market share of about 82%. This suggests that as long as investors' preference for passively managed vehicles like ETFs remains intact, their high growth rates could continue for decades to come.  The ETF is simply a more efficient structure than a mutual fund. Although, they are likely to continue to take market share from mutual funds, at one fifth the current assets, it difficult to blame them for bubbles.
Article continues below advertisement
Market Realist
ETFs are still dwarfed by mutual funds
As we discussed in the previous part, mutual funds still own more US stocks than any other institutional group. Since mutual funds are saddled with a lot of speed bumps on the way to growth, ETFs are taking the driver's seat. According to Goldman Sachs, mutual fund ownership of equities is at the lowest level in nearly 13 years, while ETFs (SPY) (IVV) are gradually increasing their share in the stock market. In 2016, mutual funds sold a total of $117 billion in stocks, while ETFs bought stocks worth $188 billion. Despite rapid growth, ETFs are still less than one-fifth the size of mutual funds in terms of asset base.
ETFs are more cost and tax efficient
Like mutual funds, ETFs (SCHG) (SPLV) are a pool of securities bundled into a fund. ETFs are considered to be more cost efficient because of lower expenses compared to most mutual funds. Although most of the ETFs are generally passively managed, there are few actively managed ETFs introduced in the market as well. ETFs (RSP) trade on stock exchanges just like stocks. Trading is generally done through a broker. Investors can buy or sell ETFs anytime during the trading day. On the other hand, investors can directly buy mutual fund units or withdraw from it depending on the nature of the scheme. ETFs are more tax effective than mutual funds. As a result, ETFs will likely become more popular at mutual funds' expense.