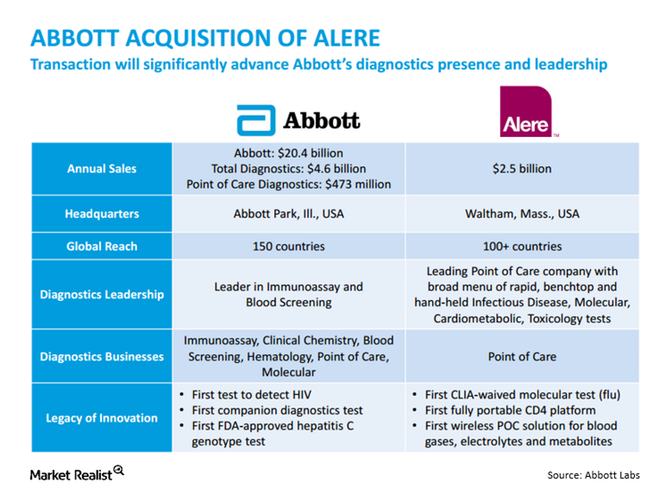 Abbott's Acquisitions Are Its Major Growth Drivers
St. Jude Medical acquisition
Abbott Laboratories completed the acquisition of St. Jude Medical in January 2017. The integration has been on track, and the new team that consists of both companies' workforces is working efficiently to achieve milestones and integration objectives. The acquisition has positioned Abbott Laboratories in leading positions across its product segments in the medical device sector. For more, be sure to read St. Jude Medical May Establish ABT as a Key Medical Device Player.
The combined company is expected to provide higher value to its customers with products such as Confirm Rx, Portico TAHV (transcatheter aortic heart valve), EnSite Precision, HeartMate 3, and Proclaim DRG. Abbott aims to achieve 3.0x the leverage target by 2018.
Article continues below advertisement
Article continues below advertisement
Alere acquisition
Abbott and Alere endured a long drawn-out legal battle. However, the two companies have recently reached a settlement. They've dismissed their lawsuits, and the price of the deal has been lowered from $5.8 billion in equity to $5.3 billion. That represents Alere's value at $51 per share. The deal is expected to be completed by the end of 3Q17. It's expected to strengthen Abbott's presence in the diagnostics market. The point-of-care testing, in particular, is an extremely attractive segment in this market. Medtronic (MDT), Boston Scientific (BSX), and Becton Dickinson (BDX) are Abbott's major competitors in this space. You can consider the Vanguard Dividend Appreciation ETF (VIG) to gain exposure to Abbott Laboratories and participate in its growth while diversifying risks.
Next, let's take a look at Abbott's Nutrition segment and its growth potential amid Chinese headwinds.