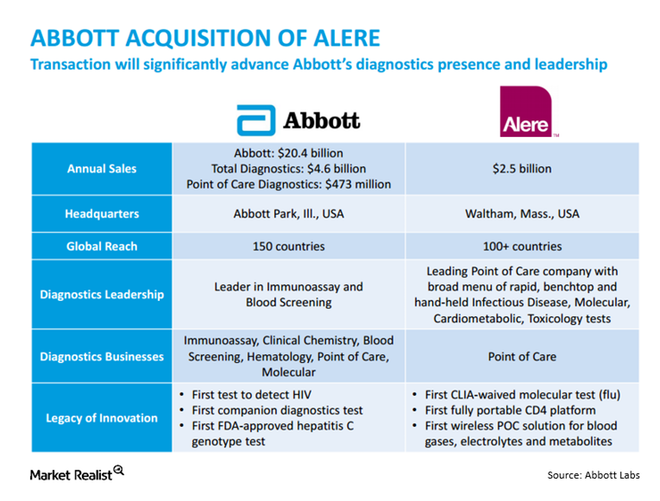 A Brief Recap of the Abbott–Alere Deal Developments
Merger agreement
On February 1, 2016, Abbott Laboratories (ABT) and Alere (ALR) announced a deal in which Abbott would buy Alere for $5.8 billion, with additional debt of ~$2.6 billion. For the details of how the deal was viewed at the time, please read Abbott Looks to Boost Its Diagnostics Business by Buying Alere. The business profile of the two companies is illustrated below.
Article continues below advertisement
Abbott's unwillingness to go ahead with the deal surfaced
On April 29, 2016, Abbott Laboratories (ABT) offered Alere $50 million to end the deal, which Alere rejected. However, according to the merger agreement, Alere is required to pay $177 million to Abbott Laboratories if the deal is terminated.
Notably, Abbott Laboratories announced the $25 billion acquisition of St. Jude Medical (STJ) on April 28, 2016. The deal was heavily funded through debt. To learn more about the deal, please read Huge Deal in the Healthcare Space: Abbott Buys St. Jude Medical.
Alere filed lawsuit against Abbott to complete the deal
On August 25, 2016, Alere filed a lawsuit against Abbott Laboratories in the Delaware Court of Chancery. The lawsuit would force Abbott to gain the required regulatory approvals and proceed with the acquisition according to the terms of the agreement. Alere also charged Abbott with pressuring Alere executives to back out of the deal with a $50 million fee.
However, Abbott Laboratories denied these allegations. In a counterclaim against Alere in the Court of Chancery, Abbott sought what it considered necessary information from Alere that it claimed Alere was not willing to provide. Both lawsuits are ongoing.
Article continues below advertisement
Shareholder approval and another lawsuit
In September 2016, Abbott Laboratories and Alere agreed to settle their issues and reach a mutual agreement related to the deal. In October, Alere shareholders approved the deal. Notably, the St. Jude Medical deal was approved five days later.
In November 2016, Abbott Laboratories filed a lawsuit against Alere, seeking necessary information related to the merger and claiming breach of contract.
Abbott seeks to terminate the Alere acquisition deal
On December 7, 2016, Abbott Laboratories sued Alere, seeking to terminate the deal. Abbott cited material impact on the company's value and its long-term prospects due to the negative developments in the company since its announcement in February. Abbott also cited Alere's inability to maintain transparency and provide necessary related information to Abbott.
Investors looking to gain diversified exposure to Abbott Laboratories (ABT) can consider the Vanguard Total Stock Market ETF (VTI). VTI holds ~0.24% in Abbott Laboratories, ~1.2% in Johnson & Johnson (JNJ), and 8% in Pfizer (PFE).
Next, let's look at Abbott Laboratories's rationale for seeking termination of the deal.