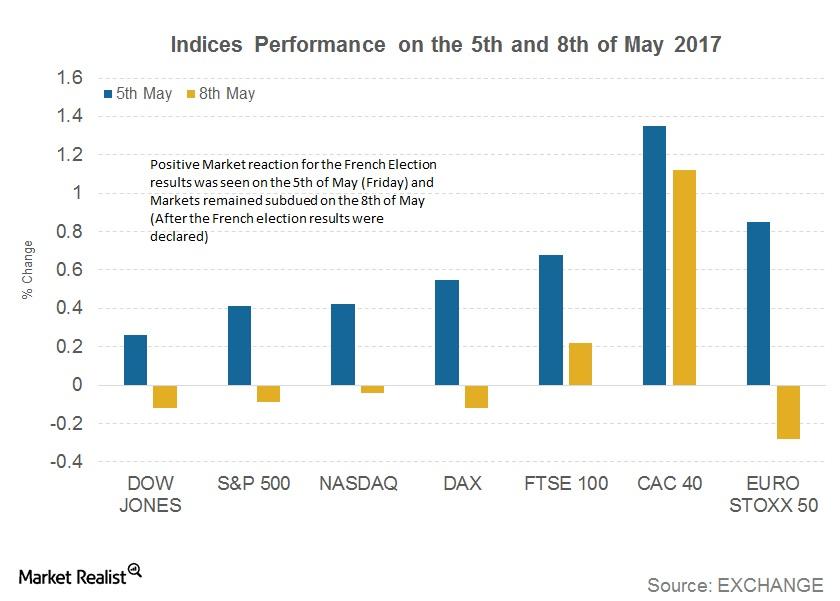 Will Market Optimism Continue after the French Election Results?
Equity markets celebrate Macron's victory
The celebration of Emmanuel Macron's victory in the French election began when the markets opened in Asia on May 8, 2017. Asian markets excluding China (YINN) rose, with Japanese indexes (EWJ) rising more than 2% on the day.
Chinese markets were lower due to the steps taken by Chinese regulators to limit leverage. A solid jobs report in the United States also added to the positive momentum, increasing the possibility of new highs in the near term.
In Europe, DAX (DAX) closed above 12,700 on May 8, 2017, an all-time high for the index, and other European indexes also joined in the celebration.
However, the United Kingdom's FTSE (VGK) and France's CAC posted minor gains on the day after the French elections were declared, indicating that the markets had already priced in a Macron victory.
Article continues below advertisement
How will US markets react to the French elections?
US futures markets indicated a mixed opening despite a surge in the risk appetite across the globe after the French election's results were announced. The S&P 500 Index (SPY) continued to hover near the 2,400 mark, even after an impressive print in the non-farm payroll data that were released on May 5.
Volatility has fallen considerably
Volatility in the markets has fallen considerably after the French election's results, with the S&P 500 VIX Index, a measure of volatility in the S&P 500 Index, falling 2.4% to 10.30, its lowest level in 12 months.
We believe that the markets have priced in the positive results of the French election's outcome and that going forward, economic data releases and fiscal policies will be the key driving factors of equity market performance.