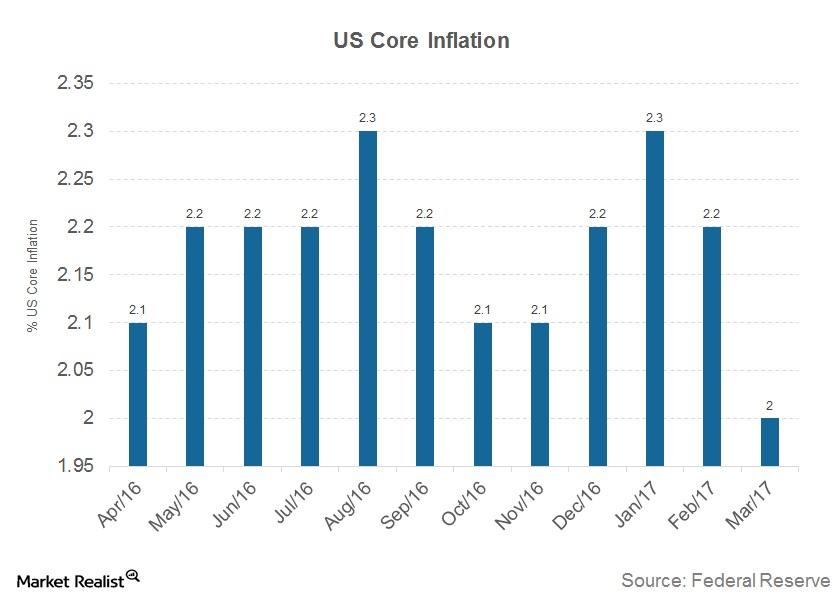 Why Charles Evans Thinks It's Important to Reach Inflation Goals
Evans is worried about inflation
Charles L. Evans, president of the Federal Reserve Bank of Chicago, said it's extremely important that the Fed reach its inflation (VTIP) goal. He was part of a May 5, 2017, panel discussion at Stanford University with other Fed members, James Bullard and Eric Rosengren. Evans is known for his dovish stance and has always been worried about lower levels of inflation. He spoke about how the Fed's large balance sheet could lead to political pressure in the future.
Unloading of the Fed's massive balance sheet could have an impact on the bond markets (AGG) and indirectly increase borrowing costs for companies. That path for interest rates might not be one that the Trump administration would be happy with.
Article continues below advertisement
Article continues below advertisement
Bullard thinks QE hasn't helped inflation
In the same panel discussion, Bullard, president of the Federal Reserve Bank of St. Louis, continued the discussion on the Fed's balance sheet. He said that QE (quantitative easing) by the Federal Reserve has had a huge impact on equity (USMV) and FX (foreign exchange) (UUP) markets, but not so much on inflation.
Bullard's view on interest rates
At another conference, Bullard spoke in favor of the current interest rate in the United States. He said interest rates aren't likely to change more than the Fed's forecasts. He said interest rates are low since the US (SCHD) economy is still in a low-growth state, but he also acknowledged improving economic conditions in the recent past.
According to the tone of all the Fed speakers in the last two weeks, Fed members are in favor of a gradual tightening of interest rates. The markets will likely take that into consideration going into the June FOMC (Federal Open Market Committee) meeting.