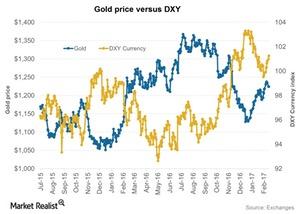 What's the Correlation between the Dollar and Gold in Last 5 Days?
Dollar Index
One of the critical elements that affects precious metals besides the overall market sentiment is the US dollar. The US dollar and the US interest rates have been some of the most important factors playing on these metals.
The US dollar here is depicted by the DXY Index, which measures the dollar against a basket of six major world currencies. The DXY Index fell 0.81% on Tuesday, May 16. It has also seen a five-day trailing loss of 1.6%. Any rise or fall in the US dollar plays substantially on precious metals, which are dollar-denominated assets. The higher the US dollar rises, the more expensive it is for investors from other countries to buy dollar-based assets like gold and silver.
However, the relationship between gold and the dollar (UUP) may not always persist, and they could move in the same direction instead. Rising global tensions could increase the haven status of gold as well as the dollar. Similarly, a fall in haven demand could draw them lower.
Article continues below advertisement
Article continues below advertisement
Correlation between gold and the dollar
The correlation between gold and the US dollar has been -0.36% on a year-to-date basis. A negative correlation suggests an inverse relationship. Over the past year, gold fell when the dollar rose about 12% of the time.
Over the past five days, the fall in the dollar gave relative strength to gold and silver and also funds like the Physical Swiss Gold Shares (SGOL) and the Physical Silver Shares (SIVR). These two rebounded 1.3% and 4.3%, respectively, on a five-day trailing basis.
The mining stocks that also rose during that timeframe include Silver Wheaton (SLW), Sibanye Gold (SBGL), Barrick Gold (ABX), and Primero Mining (PPP).