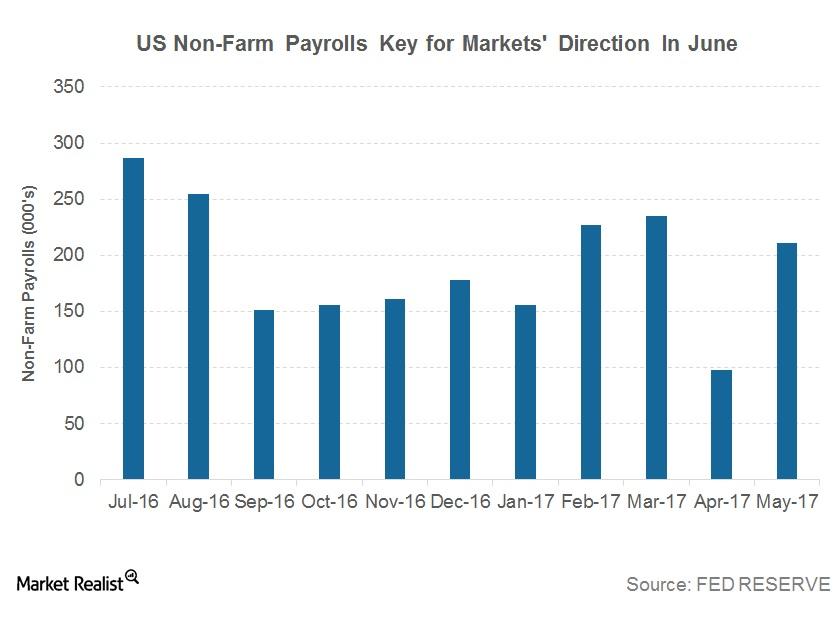 What to Look Forward to in June
Will the roller coaster restart?
In recent weeks, we've witnessed volatile behavior in the markets (SCHB) due to political turbulence in the United States and increased investor impatience as none of President Donald Trump's poll promises have seen the light of day.
The markets (IWV) have managed to remain in positive territory in May, and they've been doing so in the last six months. Summer's seasonality usually affects the market. Will this summer be any different?
Article continues below advertisement
Article continues below advertisement
The first test for market resilience will be the non-farm payroll data on June 2, followed by the Federal Open Market Committee's rate decision on June 14. If the data remain supportive of US economic growth, we could witness further optimism from the markets, and this summer could prove an exception to the seasonality of lower returns during summer months.
Obstfeld says US 1Q17 slowdown is a "splutter"
The IMF's (International Monetary Fund) chief economist, Maurice Obstfeld, said in an interview with Reuters that the slowdown in the United States is only a "splutter" and not a downturn. He also said that forecasting has been difficult due to the policy uncertainty in the United States. Such a statement from the IMF chief highlights the level of uncertainty in US markets (SPY).
The IMF is set to report its global forecast in July, and the report will be one to watch for. The IMF's latest forecast in April 2017 projected a rise of 3.5% in the global economy in 2017 and a rise of 3.6% in 2018.
It's too early to be pessimistic
According to the IMF, it's too early to project a bump in global recovery. The IMF expects China to grow more slowly than other countries, and it acknowledged the improved growth in Japan (EWJ) and China (MCHI).
For the month ahead, the momentum in the markets could face some headwinds, but investors may want to hold on, even if it'll be somewhat of a roller-coaster ride.