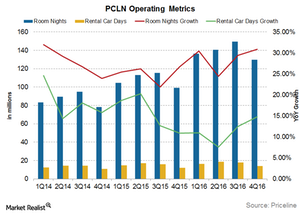 What Do Priceline's Key Metrics Suggest?
By Ally Schmidt

Updated
Gross bookings grow
Gross bookings measure the total value of all travel services purchased by customers. On a constant dollar basis, Priceline's (PCLN) gross bookings in have shown strong growth. However, the strong US dollar has subdued this growth.
From 2012 to 2014, Priceline's gross bookings grew at an average of 30%. For 2015, accounting for the strong US dollar, growth was just 10% year-over-year (or YoY), or 25% on a constant currency basis.
This growth momentum seems to have resumed in 2016. For the year, gross bookings grew 23% YoY to $68.1 billion (25% on a constant currency basis).
Article continues below advertisement
Accommodation business
The majority of this growth comes from Priceline's (PCLN) accommodation business. Hotel room nights sold grew ~28% YoY in 2014 and 25% in 2015 YoY.
The business continued its strong growth in 2016, posting growth of 28.7% YoY. As more people shift to online booking, PCLN's accommodation business should become stronger.
Rental car days
PCLN's rental car business continues to grow, although at a slower pace. For fiscal 2016, rental car days grew 11.2% YoY compared to growth of 25% YoY in 2015. Rental car days account for ~12% of the total bookings.
Article continues below advertisement
Airline tickets
The online sale of airline tickets has been on a declining trend during the last few quarters, falling 4.3% YoY in 3Q16. However, this trend should not have an impact on Priceline's business, as the sale of airline tickets forms just 1% of PCLN's total bookings.
Outlook
Priceline's (PCLN) management expects the company's 1Q17 gross bookings to grow 17%–22% YoY (19%–24% in constant dollars). The majority of these bookings should come from the accommodation business. The company's room nights are expected to grow 20%–25%.
Investors can gain exposure to Priceline stock by investing in the PowerShares Dynamic Leisure and Entertainment ETF (PEJ), where PCLN has the highest weight of ~5.7%. However, the ETF has no exposure to other online travel stocks, including Expedia (EXPE), TripAdvisor (TRIP), and Ctrip International (CTRP).