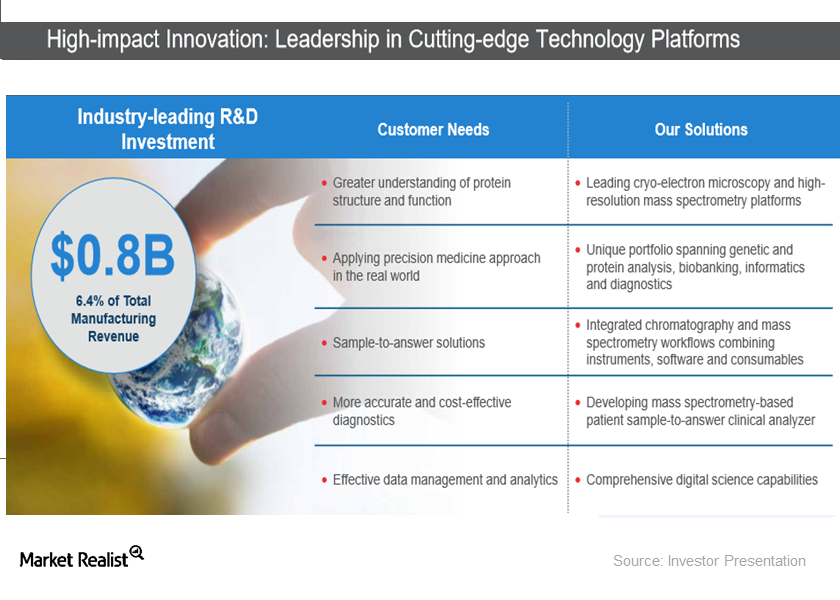 Understanding Thermo Fisher's Growth Strategy
Overview
Thermo Fisher Scientific (TMO) has always focused on innovation as a key growth strategy. TMO has witnessed organic as well as inorganic growth led by innovation over recent years and has launched a range of innovative and industry-leading products.
TMO invests significant capital toward its R&D (research and development) initiatives—one of the highest investments in the industry—and has an extensive product pipeline.
Article continues below advertisement
Article continues below advertisement
TMO's R&D strategy
TMO spends ~6.5% of its total revenues on R&D (research and development) every year. It has one of the largest R&D budgets in the industry, as compared to peers like Abbott Laboratories (ABT), Baxter (BAX), and Agilent Technologies (A). Notably, the iShares Russell 1000 Value ETF (IWD) has ~0.33% of its total holdings in TMO.
The company recently launched its new iCAP triple-quad mass spectrometry system for clinical research in pharmaceutical quality checks. This initiative represents a step toward strengthening the company's mass spectrometry and chromatography platforms.
In its Laboratory Products business, TMO has also launched a new cloud-based application designed to help customers improve workflow efficiencies. Its TSX Series blood bank refrigerators were recently recognized as the first energy-star certified lab-grade refrigerators. The company recently launched its CarrierScan assay, a microarray-based solution.
In the next part, we'll examine TMO's recent partnership with Seegene in the diagnostics space.