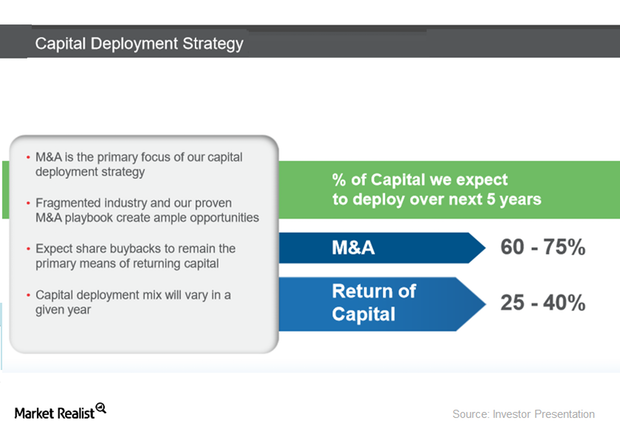 Understanding Thermo Fisher's Capital Deployment Strategy
TMO's capital deployment strategy
Thermo Fisher Scientific (TMO) has made significant investments in strategic acquisitions over recent years and has registered a solid growth. The company has also added a large number of market-leading products through acquisitions and has registered significant inorganic growth, constantly adding strategic products to its portfolios.
Notably, Thermo Fisher Scientific expects to deploy 60%–75% of its capital toward M&As (mergers and acquisitions).
Article continues below advertisement
Article continues below advertisement
Quarterly cash dividend
TMO announced a quarterly cash dividend of $0.15 per share on May 18, 2017. The dividend is payable on July 17, 2017, to shareholders of record on June 15, 2017. This would be the equivalent of the quarterly dividend of $0.15 per share paid one year previously.
TMO has been paying an annualized dividend of $0.60 per share for the past four years. Its last quarterly dividend increase was paid on January 15, 2013, and this increased the dividend amount from $0.13 per share to $0.15 per share for the quarter.
TMO's capital allocation strategy
TMO has been continually focused on building an efficient capital allocation strategy, and in particular, M&As have been the company's priority capital allocation area. YTD (year-to-date), the company has deployed around $1.1 billion of capital, with capital allocated toward M&As, share repurchases, and dividends. The company started paying dividends in 2012.
In 2016, TMO deployed ~$5 billion toward M&As and $1 billion in share repurchases. In fiscal 2017, the company expects to deploy ~$750 million toward share buybacks and $240 million toward dividend payments. Its dividend payout ratio is now ~11.7%, while its dividend yield is ~0.35%.
By comparison, peers Medtronic (MDT), Baxter (BAX), and Abbott Laboratories (ABT) have dividend yields of around 2%, 1.1%, and 2.4%, respectively. If you're interested in getting diversified exposure to TMO, you can always invest in the iShares Russell 1000 Growth ETF (IWF), which has ~0.26% in TMO.
Now let's look at the analyst recommendations.