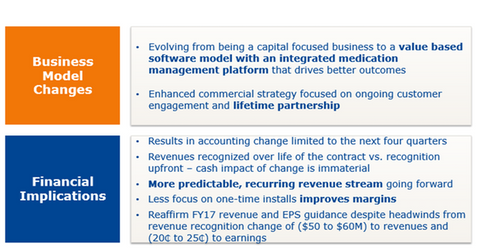 Understanding BD's Business Model Changes in Dispensing
By Sarah Collins

Updated
Medication Management business transformation
In 2015, Becton, Dickinson, and Company (BDX), or BD, identified an opportunity in the medication management market and initiated a program to reinvent its medication management business. The strategic acquisition of CareFusion in October 2015 established the company as the leader in the medication management market. (For details of the acquisition, read Becton, Dickinson, and Company's Acquisition of CareFusion.)
BD has since accelerated its plans to shift from a product-centric to customer-centric end-to-end solutions provider through various collaborations and partnerships, bolt-in acquisitions, divestitures, a strategic portfolio expansion, and restructuring.
Article continues below advertisement
US dispensing business
BD's dispensing business is one of the strongest businesses in the company and has a leading market position. As part of the company-wide business model changes including BD's medication management business, the company aims to shift from "capital placements to a value-based software and solutions model" of its dispensing business.
According to BD, "The business is evolving from one-time hardware installations towards providing lifetime solutions, software, and ultimately, value. With Pyxis ES, the business is shifting towards smart, connected dispensing devices with incremental software enhancements over time."
Improved installation process
In preparing for the execution of its dispensing business model change, BD has improved the installation process of its base software Pyxis ES, with software enhancements being introduced regularly, thus adding new capabilities.
Major competitors of BD in this space include McKesson (MCK), Cerner (CERN), and Allscripts Healthcare Solutions (MDRX). Notably, investors interested in BD can gain diversified exposure to the company by investing in the SPDR S&P 500 ETF (SPY), which has ~0.20% of its total holdings in BD.
Related accounting changes and impact on financials
As BD changes its business model, it has implemented relevant changes in the accounting method and moved from a capital lease model to an accounting lease model. In the case of a capital lease, the entire contract value used to be recognized as revenues upfront, whereas with an operating lease, revenues are recognized as they are realized.
Due to this accounting change, for fiscal 2017, BD anticipates ~$50 million–$60 million revenue headwinds and $0.20–$0.25 EPS (earnings per share) headwinds.