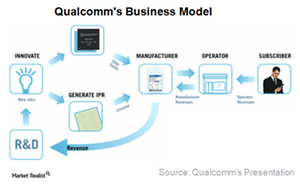 Legal and Regulatory Issues Challenge Qualcomm's Business Model
By Puja Tayal

May. 17 2017, Updated 2:32 p.m. ET
Qualcomm's business model
Qualcomm (QCOM) has been and continues to be the preferred choice of dividend-seeking investors because of its strong balance sheet and rich cash flows, which stem from its effective business model.
Under its business model, Qualcomm spends a large amount on innovating high-performance technology in the field of communication and sells this technology in the form of semiconductors and technology licenses.
Article continues below advertisement
In 2017, Qualcomm launched its first 10 nm (nanometer) processor, the Snapdragon 835, which witnessed strong demand. The company is seeing the increasing adoption of its mobile technologies across various industries, including the data center, PC (personal computer), automotive, and IoT (Internet of Things) spaces.
Moreover, the company is in the process of completing its biggest acquisition yet of NXP Semiconductors (NXPI) for $38.5 billion, which will increase the size of its chipset business by 40%.
What's not going well for Qualcomm?
Qualcomm's strong performance in the chipset business is being eclipsed by a series of legal and regulatory challenges surrounding its most profitable licensing business. This has seen Qualcomm stock fall 15% since the start of 2017.
Regulatory challenges
After being hit by overheating issues in its Snapdragon 810 processors and a nearly $1 billion fine from Chinese regulators over antitrust issues in 2015, Qualcomm got back on track and started reporting earnings growth in 2016.
However, the good days didn't last long. The company faced scrutiny from regulators in South Korea (EWY), Taiwan, Europe, and the United States over its licensing practices and anti-competitive tactics. South Korea even imposed an $868 million fine on Qualcomm, which the company is contesting.
Legal challenges
An even bigger blow came when Qualcomm's customers also began demanding fair licensing terms. Recently, BlackBerry (BBRY) won $815 million in arbitration from the chip supplier. An unnamed OEM (original equipment manufacturer) also underpaid $150 million in licensing revenue to Qualcomm. The largest blow of all? A legal battle with its key customer, Apple (AAPL).
All these legal and regulatory issues have challenged Qualcomm's licensing model, under which it charges 3.5%–5% of the end device's selling price as a royalty. In this series, we'll look at Qualcomm's legal challenges and understand their impact on the company's future earnings.