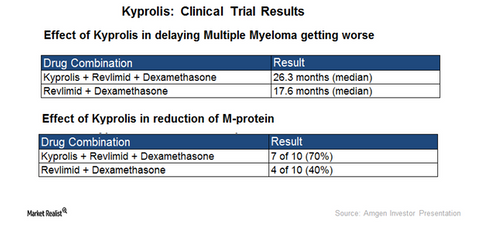 Kyprolis Could Significantly Drive Amgen's Revenue Growth in 2017
By Daniel Collins

Updated
Kyprolis's growing market share
Amgen's (AMGN) Kyprolis has gained considerable market share in second-line multiple myeloma (or MM) indication since its launch in 2012. With superior survival data, Amgen (AMGN) expects to rapidly grow Kyprolis' presence in the markets outside the US. 
After regulatory approval and the commercial launch of Kyprolis in Europe in November 2015, the drug has witnessed a double-digit year-over-year (or YoY) growth rate in the continent. The increasing international presence is expected to fuel the drug's sales volume.
The chart above depicts the clinical efficacy of a triplet regimen comprising Kyprolis, Revlimid, and dexamethasone over combination therapy of Revlimid and dexamethasone.
Kyprolis (carfilzomib) is a proteasome inhibitor that is administered in combination with dexamethasone or lenalidomide to treat patients with relapsed or refractory MM. The drug secured approval as a second-line MM therapy from the FDA in July 2012.
Article continues below advertisement
Factors driving revenues
The ENDEAVOR clinical trial, which involved 929 patients, proved Kyprolis to be clinically beneficial compared to Velcade. Velcade is considered the standard of care for relapsed or refractory MM. The clinical trial data noted that the patients receiving Kyprolis and dexamethasone survived 7.6 months longer than patients receiving Velcade and dexamethasone.
The superiority of Kyprolis over Velcade is expected to reduce any reimbursement constraints. Amgen is also focusing on extending Kyprolis's reach to community oncology practices, which could boost the drug's demand.
Currently, Amgen is investigating Kyprolis in combination with several other agents in Phase 3 ARROW trial. This trial is designed to study the impact of changing dosage frequency in patients suffering from relapsed or refractory MM when treated with these combination therapies. Amgen (AMGN) is also pursuing clinical trials for approval of the drug as a first-line MM therapy.
According to American Cancer Society estimates, in 2017, ~30,280 new MM patients are expected to be diagnosed in the US. With a large patient pool and robust clinical efficacy, Kyprolis is expected to witness considerable growth in sales volume.
Competition
In 2017, Celgene's (CELG) Pomalyst and Revlimid, Johnson & Johnson's (JNJ) Darzalex, and Takeda Pharmaceutical's (TKPYY) Velcade are expected to give Kyprolis stiff competition for growth in market share.
A strong showing by Kyprolis could help boost Amgen's stock price, which could also benefit the Vanguard Growth ETF (VUG). Amgen makes up ~1.1% of VUG's total portfolio holdings.
In the next article, we'll explore Amgen's revenues from Kyprolis.