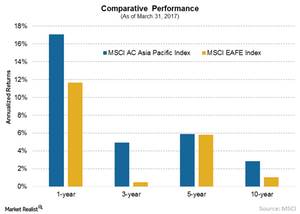 Why Investors Should Consider Core Asian Funds
By Matthews Asia

Jun. 2 2017, Updated 7:36 a.m. ET
Matthews Asia
Investors seeking to enhance their returns and improve their diversification generally use non-U.S. (i.e. EAFE) or global funds when investing overseas. We believe this has been, and will likely continue to be, a mistake. Instead of using Asian funds primarily as "exotic" additions, investors should consider using them as the anchor of their international diversification. The logic behind using less EAFE and more Asia is simply that Asia can provide a better combination of return potential and diversification than EAFE.
Article continues below advertisement
Market Realist
Asian funds outperformed non-US benchmarks
The MSCI EAFE (Europe, Australasia, Far East) Index, the most widely used benchmark, tracks the performance of companies across developed markets in Europe, Australasia, and the Far East. The index constitutes around 929 companies in 21 developed countries, providing exposure to 85% of the market capitalization in each country.
The EAFE Index provides exposure to slow-growing developed markets while disregarding Asia's fast-growing markets (FXI) (INDA). Consequently, returns generated by the MSCI EAFE Index are inferior to those of the MSCI AC Asia Pacific Index. In the last ten years, the MSCI AC Asia Pacific Index has generated annualized returns of 2.9%, while the MSCI EAFE Index has earned a mere 1.1%. The MSCI AC Asia Pacific Index has also substantially outperformed the MSCI EAFE Index in the last three months.
High-growth constituents
The higher returns generated by the Asia Pacific Index can be attributed to the fact that it consists of companies (MCHI) (EWY) with some of the highest growth in the region and the world. The index constitutes 1,024 companies in five developed and eight emerging markets in the Asia-Pacific region (EWT) and covers ~85% of the market capitalization in each country.