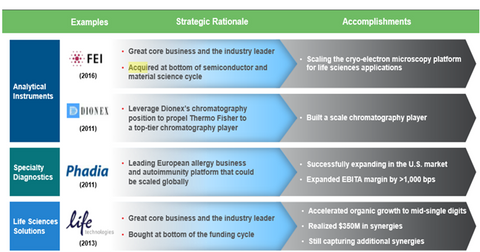 Here's What Keeps Boosting Thermo Fisher's Growth
By Sarah Collins

Updated
TMO's inorganic growth strategy
Thermo Fisher Scientific (TMO) has been on a spree of acquisitions over the past few years, adding complementary businesses to its existing business segments. The Life Sciences Solutions segment was formed after the $13.6-billion acquisition of Life Technologies in February 2014. (For more on the acquisition, read Analyzing Thermo Fisher's Acquisition of Life Technologies).
The diagram below depicts some of the key acquisitions that have led the company's growth over recent years. In 1Q17, ~8% of the total 11% YoY (year-over-year) revenue growth was contributed by the company's recent acquisitions.
Some of the company's major competitors that have adopted strong inorganic growth strategies over recent years include Zimmer Biomet Holdings (ZBH), Stryker (SYK), and Abbott Laboratories (ABT). The iShares Russell 1000 Value ETF (IWD) invests ~0.33% of its portfolio in Thermo Fisher Scientific.
Article continues below advertisement
Recent acquisitions
On March 2, 2017, TMO acquired Core Informatics for $94 million as part of its Analytical Instruments segment. Core Informatics is a North-America based company that provides cloud-based platforms supporting scientific data management, and its acquisition should help enhance TMO's informatics solutions business.
On February 14, 2017, TMO acquired Finesse Solutions, which now forms part of TMO's Life Sciences Solutions business, for $220 million. Finesse Solutions is a North-America based company that provides control automation systems and software for bioproduction and has been TMO's technology partner since 2013.
FEI Company
On September 19, 2016, Thermo Fisher acquired FEI Company for nearly $4.1 billion. The acquired company formed part of TMO's Analytical Instruments segment and added the high-end electron microscope cryo-EM to the company's analytical instruments portfolio. During its recent earnings release, TMO reported stronger year-one accretion synergies from the FEI acquisition than from target accretion.
On March 31, 2016, TMO had acquired Affymetrix for $1.34 billion. The acquisition strengthened the company's genetic analysis and Biosciences offerings. On May 15, TMO announced the acquisition of the Dutch contract developer and manufacturer of drug ingredients.
We'll discuss the details of the acquisition in the next part.