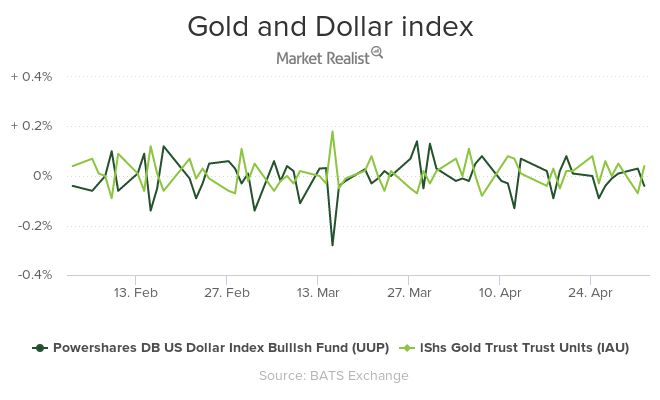 Global Tremors, the Dollar, and Gold in Early May
Global tremors
Geopolitical risks had been solidly playing on the haven bids for precious metals, but for now, we may be seeing to be a temporary respite—however brief—from global worries. The US dollar and US stock markets rose on Tuesday, May 2, which led to a drop in the all precious metals except gold, though gold had seen a major slump on Monday, May 1.
The erosion of haven bids from the market caused a drop in precious metals and funds like the iShares Gold Trust (IAU) and the Physical Silver Shares (SIVR).
[marketrealist-chart id=2071231]
Article continues below advertisement
Article continues below advertisement
The above chart shows the changes in gold and dollar (UUP) over the past three months. Most of the time, these two indicators walk away from each other. The DXY Index, which prices the dollar against the basket of six major world currencies fell 0.1% on Tuesday and has lost about 1.4% in the past month.
Dollar and gold
As gold is a dollar-based asset, the higher the price of the dollar, the lower the demand will be for dollar-based assets like gold, silver platinum, and palladium. The lower the value of the dollar, the more lucrative the dollar-based assets become.
The correlation between gold and the US dollar is -0.12%. A negative correlation suggests an inverse relationship. Over the past year, about 12% of the time, gold has fallen when the dollar has risen.
The mining shares that fell on Tuesday, May 2—despite the revival in gold—include Kinross Gold (KGC), Coeur Mining (CDE), Alacer Gold (ASR), and IAMGOLD (IAG).
Now let's take a look at which stocks have recovered since the dip on Monday, May 1.