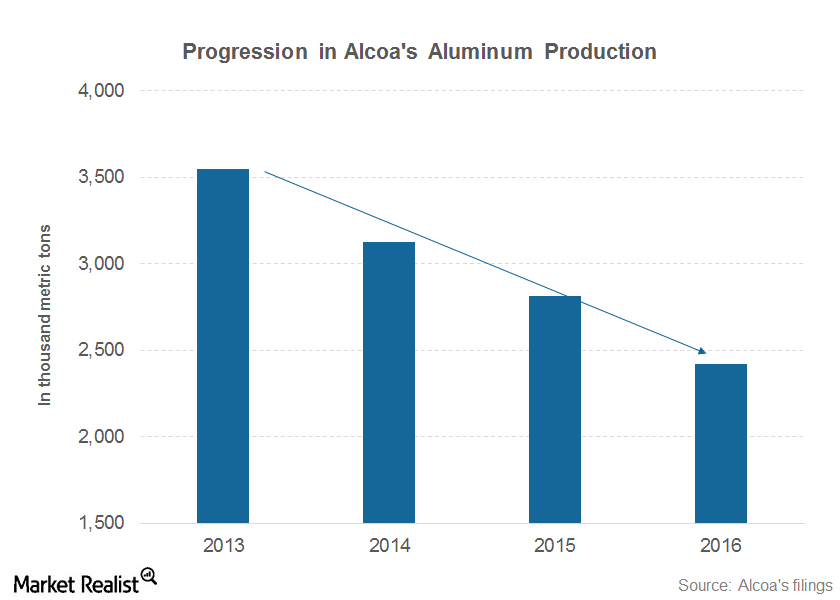 Could Wilbur Ross and Donald Trump Be Alcoa's Saviors?
Trump administration
The Trump administration has launched a probe to investigate whether aluminum imports threaten US national security. Wilbur Ross, the United States Secretary of Commerce, defended the move during a CNBC interview. Ross stated that the US now only has two active smelters, while 55% of US aluminum demand is met with imports.
In our view, there is some merit to Ross's argument. US aluminum production has been falling for the last few years. According to Reuters, US aluminum production was expected to have fallen to post-World War II levels in 2016. Alcoa was the world's second-largest aluminum producer in 2007 but in 2015, the company was ranked fourth.
Article continues below advertisement
Article continues below advertisement
Key drivers
One of the reasons US-based aluminum producers such as Alcoa (AA) and Century Aluminum find it hard to compete is because the cost of electricity is higher in the United States (DIA) (DJIA-INDEX). Producers in China allegedly receive a power subsidy. Higher labor costs in the United States also don't help the country's aluminum industry (NHYDY) (RIO).
Alcoa and Century Aluminum (CENX) survives the commodity price slump by closing their high-cost capacities and negotiating better power deals for several operating plants. However, Noranda Aluminum had to file for bankruptcy in 2016 as aluminum prices touched their lowest point since 2009.
What could an import tax mean?
A blanket import tax could lead to a divergence in US and international aluminum prices. For now, the aluminum price that US consumers pay is more or less similar to international prices. However, there could be some variation due to physical delivery premiums.
Could a blanket import tax do the trick for Alcoa? We'll explore this topic in detail in the next article.