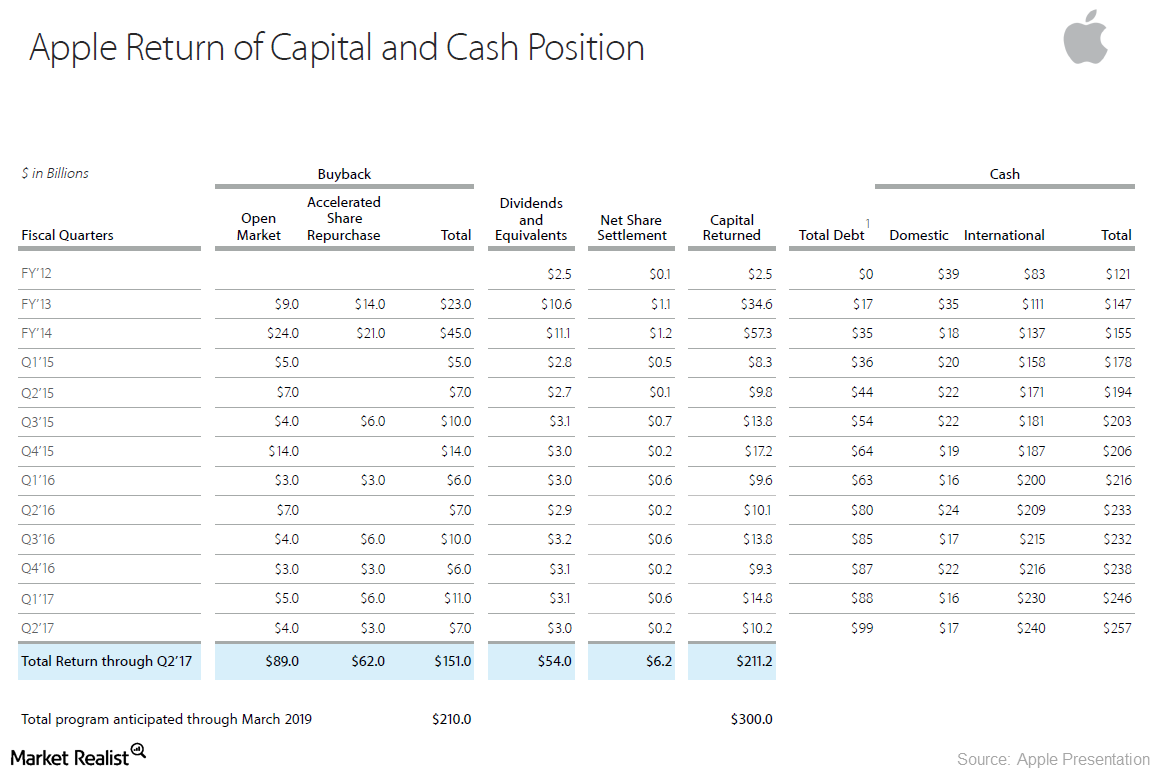 Apple's $300 Billion Share Buyback Program
Apple continues to increase shareholder value
Apple (AAPL) has completed $211.2 billion of its $250.0 billion ongoing capital return program. It also extended its capital return program by $50.0 billion for the next 12 months.
Taking past returns into consideration, Apple plans to pay shareholders $300.0 billion by the end of March 2019. In fiscal 2Q17, Apple returned $7.0 billion in share repurchases and $3.2 billion through dividends to shareholders.
Apple's CFO (chief financial officer) Luca Maestri said, "We returned over $10 billion to investors over the quarter. We paid $3 billion in dividends and equivalents and we spent $4 billion on repurchases of 31.1 million Apple shares through open market transactions."
Apple has more than $256.0 billion in cash reserves. More than $239.0 billion, or 93.0%, is held at overseas locations. Apple might bring back funds to the United States considering the highly awaited tax structure changes.
Article continues below advertisement
Dividend yield to shareholders
While Apple didn't announce any increase in its quarterly payout, it did declare a dividend of $0.63 per share, payable on May 11, 2017. Apple has a dividend yield of 1.7% compared to 2.4% in fiscal 2Q16 and 1.7% in fiscal 1Q17.
Dividend yields for peer technology (QQQ) companies Hewlett-Packard (HPQ), Western Digital (WDC), and International Business Machines (IBM) were 3.1%, 2.5%, and 3.8%, respectively, as of their last reported quarters.
In the last four years, Apple has acquired more than 15 companies and is looking to add strategic value through those acquisitions.