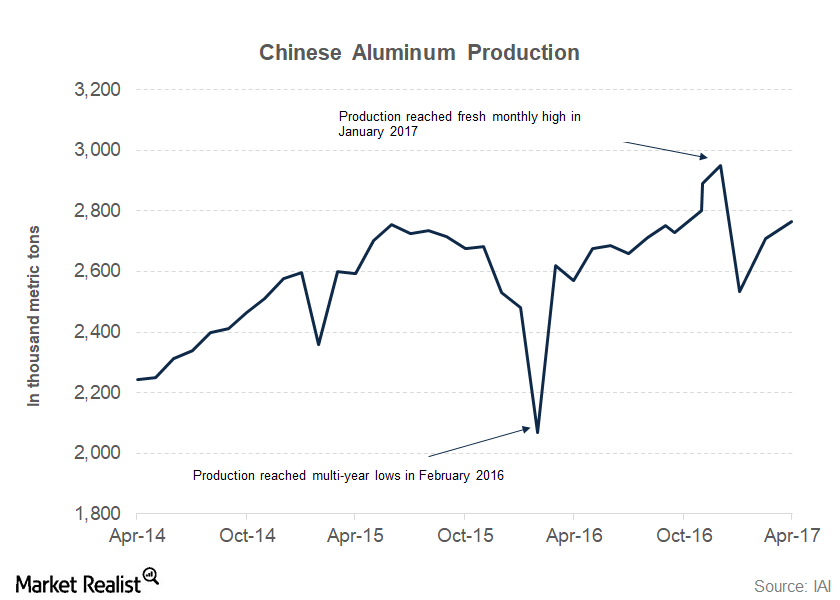 Analyzing China's Aluminum Production Data
Chinese aluminum production
According to data released by the International Aluminum Institute, China produced ~2.76 million metric tons of aluminum in April, which represents a YoY (year-over-year) increase of 7.6%. China's aluminum production has risen 12.0% YoY in the first four months of 2017. We should remember that China's overproduction has been one of the key issues plaguing global aluminum markets.
Article continues below advertisement
Excess capacity
Cutting excess aluminum capacity is China's publicly stated policy. The country plans to shut down its polluting industries to address rising pollution levels. However, the steep increase in China's aluminum production in the last few months doesn't look in sync with capacity cuts. Apparently, the cuts have been a key driver of aluminum prices (AA) (CENX) (RIO).
However, there are a few things that we need to understand. The steep rise in Chinese aluminum production has come from a relatively low base effect. The country's aluminum production experienced a sharp fall in the first two months of 2016.
Capacity cuts
We shouldn't draw conclusions about China's capacity cuts based on higher aluminum production. It's important to understand that the country's aluminum production can rise alongside capacity cuts. There's huge production overcapacity in China. Even though China might cut its aluminum overcapacity in a piecemeal manner, other operating aluminum smelters might increase their production to capitalize on higher aluminum prices. It's also worth noting that China (FXI) continues to add new smelting capacity. Most of the capacity is expected to be more environmentally friendly and cost efficient than old smelters.
In the next part, we'll discuss why aluminum prices haven't reacted to rising Chinese aluminum production (ACH).