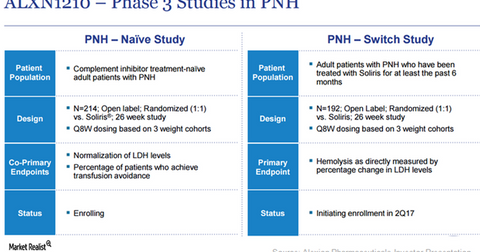 ALXN1210 Is Expected to Boost Alexion Pharmaceuticals' Revenue
By Margaret Patrick

Updated
ALXN1210 research programs
Alexion Pharmaceuticals (ALXN) has planned five clinical trials in 2017 to test the potential of investigational next-generation C5 antibody, ALXN1210, as a treatment option for complement-mediated diseases.
ALXN1210 has been granted an orphan drug designation (or ODD) both in the United States and Europe. The company expects to secure a composition of matter patent for this therapy, which will extend until 2035, in both the United States and Europe.
If ALXN1210 enables Alexion Pharmaceuticals to maintain its market-leading position in the complement inhibitor space, the company's share price could see a boost, as could the price of the Vanguard Growth ETF (VUG). Alexion Pharmaceuticals makes up ~0.27% of VUG's total portfolio holdings.
Article continues below advertisement
Phase 3 studies
As we can see in the diagram above, Alexion Pharmaceuticals plans to compare the effectiveness of ALXN1210 with that of Soliris in complement inhibitor treatment–naïve patients as a therapy for paroxysmal nocturnal hemoglobinuria (or PNH).
Around 40% of the maximum of 214 patients have already enrolled in the trial. The company expects to complete enrollment in the study. If ALXN1210 manages to achieve the primary endpoint of this trial, it could lead to a lower number of annual infusions for PNH patients. Currently, patients receive 26 infusions of Soliris every year. The adoption of ALXN1210's eight-week dosing schedule would result in only six infusions annually.
Alexion Pharmaceuticals is also on track to start another Phase 3 study in 2Q17, one to test the efficacy of ALXN1210 in PNH patients already being treated with Soliris. The enrollment of patients in this trial is expected to complete by the end of 2017. The trial aims to prove that PNH patients on Soliris therapy can be safely transferred to an eight-week infusion schedule of ALXN1210.
However, despite its improved efficacy and safety, ALXN1210 could face pricing pressures going forward, similar to orphan drugs by peers such as Incyte (INCY), United Therapeutics (UTHR), and Vertex Pharmaceuticals (VRTX).