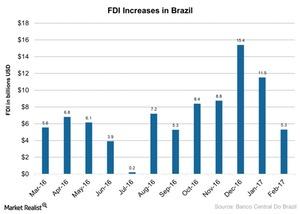 Will Rising FDI in Brazil Help 2017 Market Performance?
FDI in Brazil
FDI (foreign direct investments) in Brazil picked up in the second half of 2016 in spite of a slower economy, impeachment of the president, political crises, and corruption scandals. Fernando Rocha, head of the Central Bank of Brazil's Economic Department saiad that direct investments have specific characteristics related to long-term decisions and could be carried out even in years of weak economic activity.
Let's look now at FDI investments in the last few months in Brazil.
Article continues below advertisement
FDI in Brazil on the rise
In 2016, Brazil (EWZ) (BRF) attracted $78.9 billion in FDI, making it about 4.4% of GDP. FDI in January 2017 rose about $11.5 billion, partly due to utility industry acquisitions and increased activity in the manufacturing sector with the expectation of economic recovery in 2017.
The FDI estimate for 2017 is about $85.0 billion. The comparatively cheap valuations provide an attractive opportunity for overseas investments (BRZU)(BRF) in Brazil, especially in the cash-strapped utility sector. Recently, the city council for Rio voted to sell CEDAE,[1. Companhia Estadual de Águas e Esgotos] the state-owned water and sanitation company.
Economic impact of FDI in Brazil
Increased FDI and the central bank's rate cuts are expected to help the rally in the stock market in 2017. The BM&F BOVESPA, Brazil's benchmark index, has risen more than 50.0% in 2016 and about 16.0% in 1Q17. The iShares MSCI Brazil Capped (EWZ), which measures broad-based equity market performances in Brazil, has risen about 9.0% in 1Q17. Its top holdings include companies such as Itau Unibanco Holding (ITUB), AmBev (ABEV), and Petroleo Brasileiro (or Petrobras) (PBR). The Global X Brazil Consumer ETF (BRAQ), which tracks the performance of the consumer sector in Brazil, rose about 13.0% in 1Q17.
In the next part of this series, we'll look at Brazil's performance in the global market in 2017.