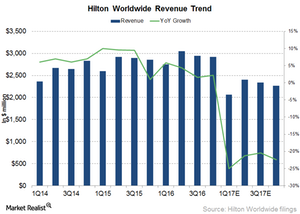 Will Hilton's Top Line Grow in 2017?
Analyst estimates
For 1Q17, analysts are estimating Hilton's (HLT) revenue to fall 25% to $2.1 billion. Revenue is expected to fall for the rest of the year. Analysts estimate revenues will fall 21.3% in 2Q17, 20.4% in 3Q17, and 22.4% in 4Q17.
These declines will lead to revenue declines of 22.9% to ~$9 billion for the full year 2017 as compared to $11.7 billion in 2016.
Article continues below advertisement
Spin-offs
This huge revenue decline is in part the result the spin-off of two of its businesses, which were completed on January 3, 2017. Hilton's spin-offs include its real estate business under the Park Hotels and Resorts (PK) brand and its timeshare business under the Hilton Grand Vacations (HGV) brand. According to Hilton, the spin-offs will allow it to focus more on its Management and Franchise segment.
Good organic growth expected
For 2016, Park Hotels and Resorts clocked a revenue of $2.7 billion, while Hilton Grand Vacations clocked a revenue of $1.6 billion. Thus, the standalone Hilton revenue was at $7.4 billion in 2016, which means analysts are estimating a healthy revenue growth of ~22% for Hilton standalone revenues in 2017.
This growth is expected given the fact that Hilton has opened almost one hotel every day in 2016, adding an inventory of nearly 77,000 rooms. Hilton also recently added a new brand, Tapestry Collections, to its portfolio, which according to CEO Nassetta could gather hotel conversions of nearly 15,000. Hilton expects to add four new similar brands to its portfolio by 2018–2019, thus showing its commitment to improving revenues from management and franchise fees.
Unlike peers such as Marriott (MAR), Wyndham (WYN), and Intercontinental Hotels (IHG), which have used the inorganic route to grow, Hilton has preferred the organic route. This is evident in the strong room pipeline discussed in the previous article. In the next article, we'll discuss the outlook for Hilton's profitability.
Hilton is a part of the First Trust US IPO ETF (FPX), an ETF that invests in the technology, automobile, hotel, and financial sectors. The ETF invests ~1.8% of its holding in Hilton stock.