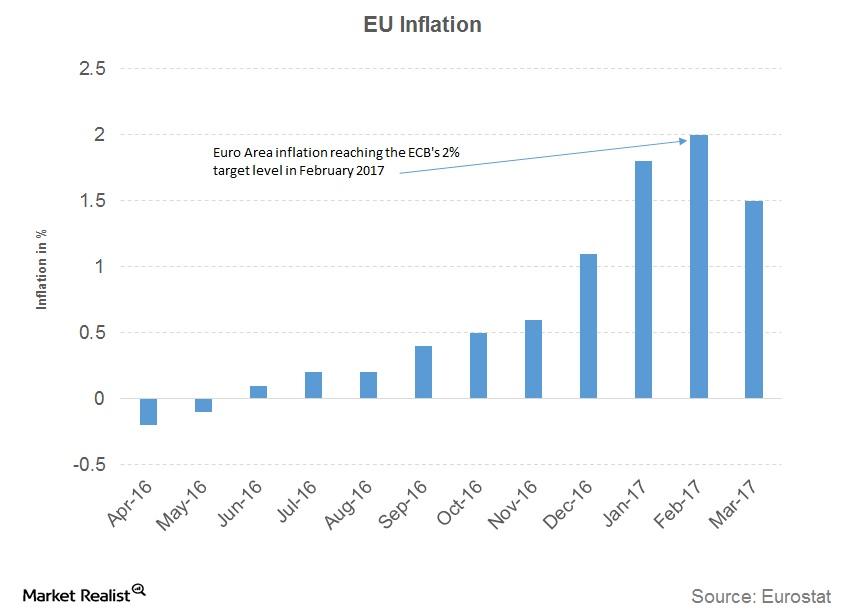 Will the European Central Bank Follow the Fed?
ECB's quantitative easing and current economic climate
On its own stage across the Atlantic from the US Fed, the ECB (European Central Bank) has had its own quantitative easing program. The ECB has started purchasing government (VGK) and corporate bonds as part of its extraordinary monetary policy measures to stimulate growth across the EU and help boost inflation levels closer to the 2% target level.
Article continues below advertisement
Article continues below advertisement
Current status of policy
The ECB has announced a minor scale back in the asset purchase program, reducing the monthly purchases from 80 billion euros to 60 billion euros as of April 2017. The ECB has now bought enough time to decide on its QE (quantitative easing) program by extending it until the end of 2017 so that it can get a read of the political uncertainty that lies ahead and pressure member countries to implement reforms that are critical for a healthy Eurozone. European banks' (CS) (HSBC) (EUFN) local units are likely to be vulnerable in case of a European crisis.
Political uncertainty will be in play
The biggest uncertainty in the EU comes from political corridors. Since the Brexit referendum, US elections, and the Italian referendum, markets have been anxious about anti-EU and protectionist sentiments among stronger members of the union.
Now, with elections in France happening in April, followed by Germany elections in September and the pending Brexit negotiations (the first EU leaders meeting on Brexit is scheduled for April 29, 2017), investors will be monitoring these events carefully, as even the slightest inclination toward a divided Eurozone (FDD) is likely to trigger a large risk-off event for the entire global financial system.
In the next part, we'll discuss the UK's Brexit referendum.