Why General Electric's Aviation Segment Revenue Rose in 1Q17
Revenue for General Electric's (GE) Aviation segment was $6.8 billion in 1Q17, a 9.0% rise from $6.2 billion in 1Q16.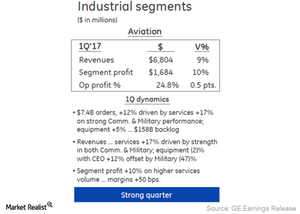 GE's Aviation revenue
General Electric's (GE) Aviation segment contributed 26.2% to the company's industrial revenue in 1Q17. The segment's revenue was $6.8 billion, a 9.0% rise from $6.2 billion in 1Q16.
This segment's operating profit rose 10.0% to $1.7 billion in 1Q17 on a year-over-year basis. Although the segment's equipment revenue fell 2.0% due to lower shipments of military equipment, the service revenue rose 17.0% in 1Q17.
According to General Electric, the worldwide passenger air travel industry has been expanding. Its capacity has risen marginally compared to demand. Global revenue passenger kilometers rose 7.0% for January 2017. Air freight volumes rose 7.2% that same month.
Article continues below advertisement
Article continues below advertisement
Aviation orders and backlog
GE's aviation orders in 1Q17 were $7.4 billion, a 12.0% rise. Of that, equipment orders rose 5.0%. Commercial engine orders rose 3.0%, driven by higher LEAP (Leading Edge Aviation Propulsion) and GEnx (General Electric Next Generation) engines. These were negatively impacted by lower GE90 and CF6 orders. For commercial engines, orders included $932.0 million in LEAP orders, $206.0 million in CF34 orders, $138.0 million in GE90 orders, and $166.0 million in GEnx orders.
However, military equipment orders fell 46.0% in 1Q17, mainly due to the absence of a bulky Black Hawk T700 Army order compared to 1Q16. Service orders rose 17.0% that quarter. Military service orders accounted for a lion's share of 40.0%, or $610.0 million, driven by higher spare parts.
Management insights
General Electric expects a better 2017 for its Aviation segment (BA). Of the 100 engines planned to be delivered in 2016, GE dispatched 77. The remaining 23 will be delivered in 2017. With these units, GE anticipates shipping a total of 500 LEAP engines through 2018. It plans to increase production of LEAP engines, targeting 450 to 500 shipments by the end of 2017. On the cost front, Arcam and Concept Laser acquisitions focusing on Additive Manufacturing are expected to lower costs for the Aviation segment.
ETF investment
If you're interested in trading in the aerospace and defense sectors, you can look at the SPDR S&P Aerospace & Defense ETF (XAR). XAR's top holdings include Rockwell Collins (COL) at 4.3%, KLX (KLX) at 4.2%, and BWX Technologies (BWXT) at 4.1%.
In the next part of this series, we'll analyze the revenue for GE's Power segment in 1Q17.