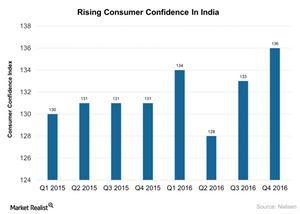 Is Rising Consumer Sentiment in India Boosting Market Performance?
By Mary Sadler

Updated
Consumer sentiment is rising
The BSE Sensex, India's benchmark stock index, is again surging close to the 30,000 mark despite the drastic move taken by the government of India to replace the bulk of currency in circulation. Let's have a look at the consumer sentiment in the last couple of years in the below chart.
Consumer confidence in India rose to 136 in 4Q16 as compared 133 in 3Q16, according to Nielsen's global consumer confidence index report. India has also retained its leading position in the consumer confidence index among the 63 countries surveyed as of 4Q16. Consumer confidence levels above 100 usually indicate optimism and below 100 indicate pessimism. The markets seem to have high expectations for the Modi government, and consumer confidence rose to the highest level in the last ten years as of December 2016.
Article continues below advertisement
Prasun Basu, president of Nielsen South Asia, said, "The three-point increase in the confidence index in the fourth quarter reflects strong economic and commercial performance at the end of the third quarter and at the beginning of the fourth quarter, further benefited by the timing of the festive season, when confidence typically rises."
Impact of increasing consumer sentiment
The BSE Sensex (INDA) (EPI) has been rising since the beginning of 2017 and posted gains of about 12% as of April 5, 2017. The Nifty 50, another benchmark index, returned 13% from January 1, 2017, to April 5, 2017. The surge in the consumer durables and the capital goods sectors supported the rally in the market performance in the last week of March 2017. The S&P BSE Consumer Durables and the S&P BSE Capital Goods were up 5.5% and 2.3%, respectively, in the last week of March 2017. The major gainers in the consumer durable sector in March 2017 include Havells India, Symphony, Nilkamal, and V-Guard Industries.
Let's look at the major equity index performance in detail in our next article.