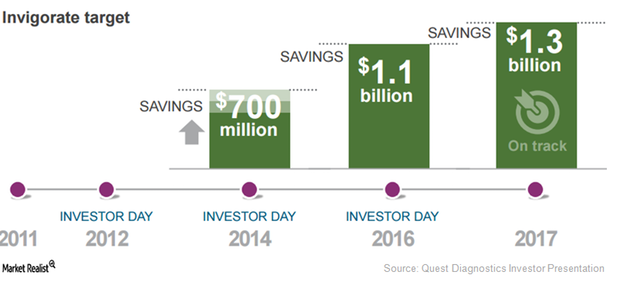 Quest Diagnostics Projects Run Rate Savings by End of 2017
By Margaret Patrick

Apr. 25 2017, Updated 10:37 a.m. ET
Run rate savings
Quest Diagnostics (DGX) has projected a run rate savings worth $1.3 billion by the end of 2017. In 2016, it managed to save up to $1.1 billion by implementing the Invigorate program. It has enabled the company to face a wage bill worth $3.0 billion and a more than 2.0% annual inflation rate. The Invigorate program has also helped the company bear price erosion pressures that range from 0.50% to 1.0% every year.
If Quest Diagnostics can reach this savings target, it may have a positive impact on its stock and the PowerShares S&P 500 Low Volatility ETF (SPLV). Quest Diagnostics makes up about 0.98% of SPLV's total portfolio holdings.
Article continues below advertisement
The Invigorate program is made up six cost-saving initiatives, including organization excellence, information technology excellence, procurement excellence, service excellence, lab excellence, and billing excellence. That is expected to enable Quest Diagnostics to compete more effectively with peers such as Laboratory Corporation of America Holdings (LH), DaVita HealthCare Partners (DVA), and Idexx Laboratories (IDXX).
Cost efficiency has further allowed Quest Diagnostics to invest in more consumer-centric initiatives such as its partnership with Safeway and its genotyping service for identifying a person's ethnic origin.
Plans to reduce bad debt
Quest Diagnostics is aiming to increase its pricing transparency while dealing with healthcare payers such as Aetna, Highmark, Florida Blue, and UPMC (University of Pittsburgh Medical Center). That, in turn, will reduce the company's bad debt expenses. The company also introduced a real-time payment determination system in 2016, which allows patients to predict their share of laboratory payments and subsequently pay them at the point of care.
Quest Diagnostics has been working with UnitedHealth Group's Optum segment to further reduce the rate of payment denials and the subsequent bad debt expenses.
Next, let's look at Quest Diagnostics' progress in implementing its five-point strategy in 2017.