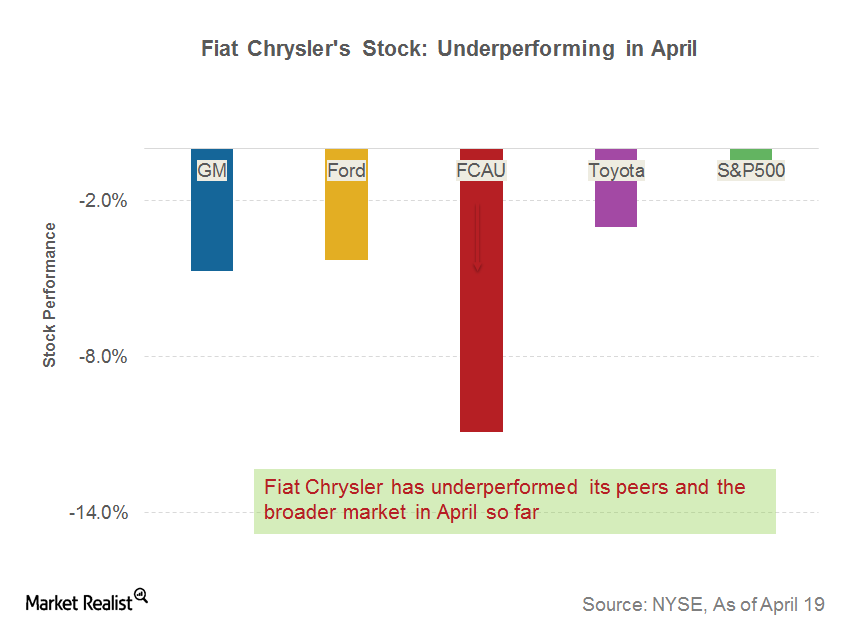 How Has Fiat Chrysler's Stock Fared in April So Far?
Fiat Chrysler's 1Q17 earnings
Fiat Chrysler Automobiles (FCAU), the Italian-American automaker, is set to release its 1Q17 earnings report on April 26, 2017. By 2016 vehicle sales volume, FCAU was the fourth-largest automaker in the US. Before we see what analysts are estimating for FCAU's 1Q17 earnings, let's take a quick look at the company's stock performance in April so far.
Article continues below advertisement
Underperforming in April
Through April 18, 2017, Fiat Chrysler (FCAU) stock had lost ~10.9% in April so far against a 0.9% drop witnessed in the S&P 500 (SPY) benchmark. Meanwhile, mainstream automakers General Motors (GM) and Ford (F) fell about 4.7% and 4.3%, respectively, on a month-to-date basis. Fiat Chrysler's weak 1Q17 US sales could be the primary reason behind its April underperformance on Wall Street.
In contrast, Fiat Chrysler stock outperformed its direct US peers in 1Q17 and delivered solid positive returns of ~19.8%. GM, the largest US automaker, ended the first quarter with 1.5% gains, and Ford's stock fell 4.0% in 1Q17. The S&P 500 Index (SPY) rose about 5.5% in the same quarter.
Motorcycle manufacturer Harley-Davidson (HOG) reported dismal 1Q17 results on April 18. Please read Harley-Davidson's 1Q17 Results: Tough Times Ahead? to learn more.
Series overview
In this series, we'll find out what Wall Street analysts are estimating for Fiat Chrysler's (FCAU) 1Q17 earnings release. This analysis includes revenue and margin estimates ahead of the company's 1Q17 report.
We'll also discuss other key updates that can be expected from Fiat Chrysler's upcoming earnings event. Later in the series, we'll take a look at the company's forward valuation multiples and key technical price levels.
Let's start by looking at the existing trend in Fiat Chrysler's earnings and analysts' estimates for its 1Q17 earnings.