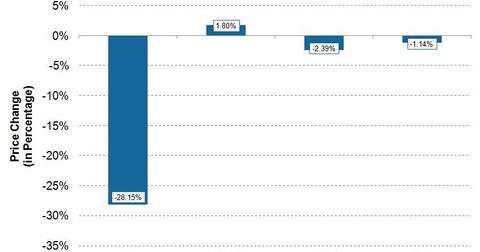 How Cobalt International Energy Stock Performed Last Week
By Nicholas Chapman

Updated
Underperformance to crude oil
Last week, offshore oil and gas (USO) (UNG) producer Cobalt International Energy (CIE) saw its stock price underperform crude oil's price by a wide margin.
Cobalt's stock price fell from $0.63 to $0.45 last week, whereas crude oil rose moderately from $52.24 per barrel to $53.18 per barrel during the same period.
CIE's stock price gapped at the start of the week, but it failed to produce positive results by the end of the week. In fact, CIE stock experienced heavy selling pressure and ended up closing at a fall on all four days of the holiday-shortened week.
In 2016, CIE stock fell ~77%, whereas so far in 2017, it's fallen ~63%. CIE's stock hit a 52-week high of $3.50 on April 27, 2016, and it hit a 52-week low of $0.35 on March 22, 2017.
Article continues below advertisement
Medium-term price action
What's worrisome about Cobalt International Energy stock is its inability to rally despite a ~104% rise in crude oil since February 2016. CIE's stock price has fallen from $2.02 to $0.45 despite crude oil's rising from its low of $26.05 to $53.18 since February 2016.
Cobalt International Energy's exploration efforts are currently focused in the deepwater US Gulf of Mexico. No significant production so far and a high debt load of ~$2.5 billion are big concerns for the company.
Currently, CIE is trading below its 50-day and 200-day moving averages. On April 13, 2017, CIE's stock price closed at $0.45, whereas its 50-day and 200-day moving averages stood at $0.61 and $1.05, respectively. Currently, CIE's stock price is stretched below its 200-day moving average.
How did CIE's peers perform?
CIE's peers Devon Energy (DVN) and CONSOL Energy (CNX) have fallen ~4% and ~7%, respectively, in the last week. The SPDR S&P 500 ETF (SPY) has also fallen in the last week. According to the SPDR S&P 500 ETF Trust prospectus, "The Trust seeks to provide investment results that, before expenses, correspond generally to the price and yield performance of the S&P 500® Index." SPY pays dividends on a quarterly basis, typically on the last business days of April, July, October, and January.
Let's analyze the possible trading range for CIE stock for this week based on its implied volatility.