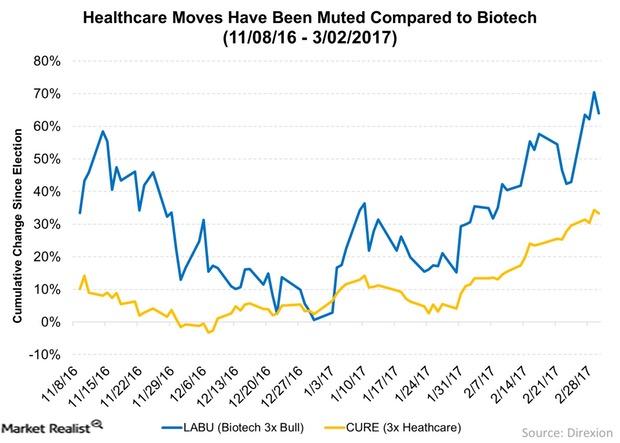 Healthcare Moves Have Been Muted, but Could We Get a Surprise?
Article continues below advertisement
Article continues below advertisement
Healthcare moves have been more muted, but the multiple is still up
Since the election, healthcare has been somewhat of a laggard, rising only 10.4%. However, the multiple has still risen almost 15%. This increase implies that investors are taking President Trump at his word—that he intends to keep prescription and healthcare prices in check. Plus, it is still unclear how much of the remaining healthcare space will be affected. Will hospital stocks fall if fewer people end up with coverage? Will health insurance become a more competitive market? Investors are relatively cautious about the space, which has underperformed the S&P 500, but the multiple has expanded. So there seems to be some caution with a bit more valuation risk. You can see the risk appetite in the relative outperformance of biotech (LABU) versus healthcare (CURE) below. See expense ratios here.
Market Realist
Rising interest rates don't negatively affect healthcare as much as other industries such as utilities and staples. But the healthcare sector has still underperformed since the US elections in November 2016.
Probably the most vulnerable sector during the Trump administration will be healthcare (CURE) (IYH). President Donald Trump has repeatedly pledged to repeal and replace the ACA (Affordable Care Act), commonly called Obamacare. If the ACA is repealed, people won't be required to purchase healthcare coverage.
Trump has vowed to make healthcare naturally more affordable by making the sector more competitive. He has also proposed easier access to cheaper imported drugs.
Article continues below advertisement
There's been a divergence in the financial sector since the elections, and we're seeing a similar phenomenon with the healthcare sector. Hospital chain Tenet Healthcare (THC) has underperformed since the elections, falling 5.7%. Centene (CNC) and Molina Healthcare (MOH), Medicaid-oriented health insurers, have also underperformed, returning 6.6% and -14.9%, respectively.
Health insurers UnitedHealth Group (UNH) and Aetna (AET) have been among the better performers in the healthcare sector, returning 17.1% and 14.8%, respectively. Those performances are in spite of the likelihood that health insurance will become a more competitive space.
Most likely, the healthcare sector will perform well in the long term due to an increasing demand from the aging developed world. Developing markets get access to advanced medical technologies, making it an important export sector. Although healthcare could underperform in the short term, the above factors as well as innovation could lead to strong earnings growth in the future.