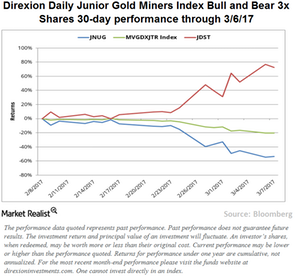 Why Gold Stocks Edged Higher after Rate Hike
Direxion
Bulls, Bears and Miners
Gold and silver prices dropped early this week. As of 03/06/17, spot gold was down 0.45% to just below $1,230 per ounce, and spot silver slipped 0.8% to $17.80 per ounce. This gradual consolidation is not entirely surprising given the nearly unanimous notion that the Federal Reserve will imminently be raising interest rates. What is surprising is that the metals have held onto almost all of their early-year gains in the face of a strong U.S. dollar. Interestingly, however, April gold futures were actually up 0.5% on Monday (3/6/17).
Gold stocks had their largest selloff since late last year. The Market Vectors Gold Miners Index has fallen 17% off from its February high. The Market Vectors Junior Gold Miners Index has tumbled about 24% over the same period.
Article continues below advertisement
Market Realist
Weak dollar strengthens gold prices
After remaining subdued for the past few months, gold futures recorded their highest weekly gain of 2.4% since February 3 last week. The strong gains in gold were mainly attributed to the weakness in the US dollar following the Fed's rate hike decision. The rate hike affected the US Dollar Index, which fell 0.8% to bottom out at 100.3, the lowest in almost a month. The central bank's conservative view on future rate hikes as compared to its aggressive stance in December put some pressure on the dollar. The weakness in the dollar makes gold attractive due to the inverse relationship between the two.
Gold stocks edged higher
As gold prices (JNUG) (JDST) move northwards, most gold stocks soared to higher levels after the rate hike. Yamana Gold (AUY) jumped the most by 12.5%. Eldorado Gold (EGO) followed with a gain of 10.1%, while Kinross Gold (KGC) and Agnico Eagle Mines (AEM) rose 8% and 7%, respectively.
The NYSE Arca Gold Miners Index, which consists of companies involved primarily in gold and silver mining, is up 5.4% after the rate hike announcement. Similarly, the MVIS Global Junior Gold Miners Index, which tracks the performance of the most liquid junior companies in the global gold and silver mining industry, is up 5.3%. For the six months ending February 28, the NYSE Arca Gold Miners Index plummeted 11.7%, while the MVIS Global Junior Gold Miners Index was down 7.4%.
Similarly, the Daily Gold Miners Index Bull 3x Shares (NUGT) is up 20.7% year-to-date while the Daily Gold Miners Index Bear 3x Shares (DUST) is down 35.9%. NUGT and DUST are leveraged ETFs that aim to return 300% or -300% of the return of their benchmark index for a single day.