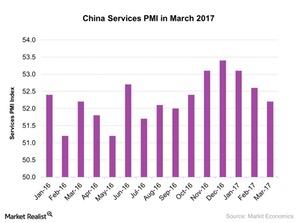 What China's Weakening Services PMI Indicates for the Economy
China's Services PMI
According to a report by Markit Economics, Caixin China's services PMI (purchasing managers' index) stood at 52.2 in March 2017 compared to 52.6 in February. The PMI figure didn't beat the market expectations of 53.2. When compared with February's number, the March reading indicated weaker business activity in the country.
The new export order and production volume grew at a slower rate in March compared to February 2017. The employment growth also weakened in that month. However, China's manufacturing PMI showed a stronger move in March 2017.
Article continues below advertisement
Economic impact
The economy has long depended primarily on manufacturing and exports, but that's starting to change. China is shifting to a consumption-based economy from a low-cost manufacturing hub.
According to McKinsey's China Consumer Report, Chinese (ASHR) (MCHI) consumers are becoming more selective about where they spend their money. They're shifting their focus from products to services and from mass to premium segments. This change shows that the economy is transitioning to a services industry.
In our view, the service industry's contribution needs to improve more to support China's (FXI) (YINN) growth. As China is an important trading partner for other countries around the globe (ACWI), the improvement in its economic condition is a positive sign for the global economy.
However, the gradual fall in the services PMI indicates that the service sector showed weaker performances in the past three months. The slower domestic demand was the main factor that impacted its performance.
In the next part of this series, we'll analyze the performance of the Japan's services PMI in March 2017.