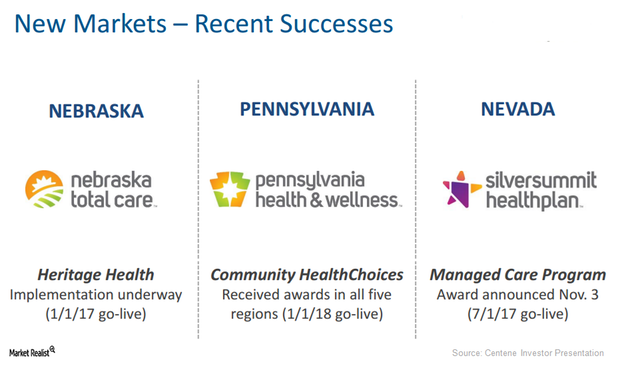 Centene Saw Robust Rise in Medicaid Enrollments in 1Q17
Medicaid enrollments
In 1Q17, around 12.1 million members were enrolled in Centene's (CNC) various healthcare plans, which is a year-over-year (or YoY) rise of around 600,000 beneficiaries. Approximately 7 million of these members are enrolled in Medicaid plans. Centene mainly competes with other Medicaid managed care players such as Anthem (ANTM), UnitedHealth Group (UNH), and Cigna (CI).
Article continues below advertisement
Article continues below advertisement
New markets
Centene started operating in Nebraska's new Medicaid program on January 1, 2017. The company served 79,000 members under this program in 1Q17.
Centene also expects to begin its Missouri Medicaid contract by May 1, 2017. The company expects to start providing service to the Medicaid Managed Care program in Nevada by July 1, 2017. Further, its Pennsylvania Medicaid contract is expected to become operational by January 1, 2018. The company is also a participant in Pennsylvania's long-term care contract, which will likely begin on January 1, 2018. Based on data from the past few years, the company expects that in 2017, a rise in the composite Medicaid payment rate will fall in the range of 0% to 1%.
If Centene witnesses an increase in Medicaid payment rates greater than its projections, it could have a favorable impact on the company's stock as well as the Vanguard Mid-Cap ETF (VO). Centene makes up about 0.34% of VO's total portfolio holdings.
In the next article, we'll discuss Centene's operating expenses in greater detail.