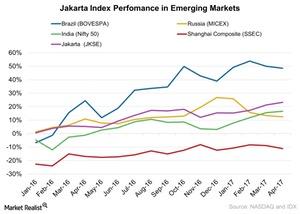 Can Indonesia Remain an Emerging Market Favorite amid Religious Tension?
The strong Indonesian economy
Indonesia is gradually strengthening its reputation and standing out in the global economy (ACWI). The Indonesian economy (IDX) is steadily growing, fueled by strong domestic consumption and efforts by its government to instigate pro-market reforms to make the country a more business-friendly destination. Indonesia recently saw its strongest growth in more than three years at about 5% in 2016.
Article continues below advertisement
Market performance
The Jakarta Index (EIDO) gained about 16% in 2016, just behind the Brazil Index (EWZ) and the Russian Index (ERUS) in 2016. Brazil posted a top performance among emerging market indexes, gaining about 40% in 2016. Russia's index gained about 27% in 2016.
Emerging markets (EEM) generally gained momentum in the second half of 2016, with improved global trade and rising commodity prices. Indonesia's performance is impressive, considering its small size among emerging markets, and Indonesia's rising middle class provides growth opportunities for consumer-related companies. Fiscal discipline, growth prospects, and relatively low inflation of around 3%–5% all stand to make Indonesia (IDX) an attractive investment destination.
Reforms helping market performance in Indonesia
Reforms in Indonesia are expected to improve the investment climate and boost growth for the country. The 2017 Doing Business Report showed seven positive reforms in Indonesia in the areas of starting a business, procuring electricity, registering property, obtaining credit, paying taxes, trading across borders, and imposing contracts.
These reforms improved Indonesia's Doing Business ranking to 91 in 2017 from 106 in 2016. Indonesia is now among the top reformers both regionally and globally in 2016, according to the 2017 Doing Business Report.
The government's strategy to improve tax collection and broaden the tax base through tax reform is also expected to boost revenues to pay for its priority investments. Indonesia's reform credentials seemed to have performed well in 2016, with improved economic fundamentals and a soaring stock market. But markets will be closely watching the region's social factors now to determine whether the star SE Asia (ASEA) will remain open.