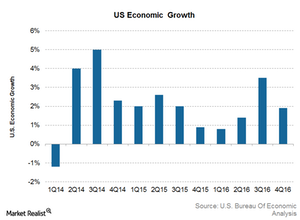 Why Economic Growth Is Important for the US Hotel Industry
Economic growth importance
The hotel industry is cyclical, which means that its business depends on the country's economic growth.
During periods of economic prosperity, disposable income is on the rise. A booming economy allows people to spend money on discretionary items such as air travel, so hotel revenues are higher during economic growth and lower during economic contraction.
Article continues below advertisement
US GDP lackluster performance
The US economy recorded it slowest growth in five years in 2016. It recorded a rise of 1.6% YoY (year-over-year), lower than the 2.6% YoY rise it had clocked in 2015. This was the result of poor trade data.
How does Trump plan to grow the US economy?
High trade deficit numbers provide ammunition for President Donald Trump's proposed trade protectionism. His America-first policy is likely to see increased infrastructure spending, cuts in corporate and individual taxes, the repatriation of big companies manufacturing in the United States, reduced regulations, and the renegotiation of trade deals in favor of the United States. These factors should provide a short-term boost to the US economy.
However, many believe his policies such as high import tariffs and bans on immigration and his anti-China stance will lead to a trade war situation in 2018, adversely impacting the economy.
Article continues below advertisement
Outlook
Trump is aiming at achieving 4% long-term sustained economic growth. Such high growth, if achieved, will be a big boost to the travel and tourism industry. However, economists are skeptical about Trump's being able to achieve this growth as well as his job creation target. The last time the US economy was able to achieve more than 3% growth was in 2005. The Federal Reserve expects long-term potential economic growth to be 1.8%.
However, with Trump just a few weeks into office and many key trade agreement decisions pending, the true impact remains to be seen.
You can get exposure to the hotel sector by investing in the First Trust Consumer Discretionary AlphaDEX ETF (FXD), which invests ~14.8% in the hotels, restaurants, and leisure sector. It holds 0.58% in Wyndham Worldwide (WYN), 0.87% in Hyatt Hotels (H), 0.90% in Hilton Worldwide Holdings (HLT), and 1.2% in Marriott International (MAR).
In the next article, we'll discuss hotel occupancy, a key hotel industry indicator.