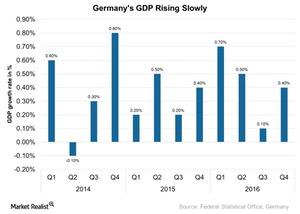 What's Driving Germany's Economic Growth?
By Mary Sadler

Mar. 13 2017, Updated 7:37 a.m. ET
Domestic consumption and investments
The German Stock Index DAX 30 (DAX-INDEX) surged over its 12,000 historical mark in March and was trading at 11,941 on March 9, 2017. The rise in retail sales, its full employment, and the low-interest rate all boosted Germany's growth in 2016.
Specifically, the German economy grew by 1.9% in 2016, as compared to 1.7% in 2015. Consumer spending was the primary driver of economic activity in 2016, rising 2% in 2016.
Spending on refugees and increased pension entitlements included in government's expenditures rose 4.2%, improving overall growth by 0.8%. Public spending and investments in 2016 rose 4.2% and 1.7%, respectively.
Article continues below advertisement
Germany's economic growth
Germany's GDP showed a 0.4% rise in the last quarter of 2016, as compared to 0.10% in the previous quarter. Demand from emerging market economies and the Eurozone are expected to strengthen slowly, and this is likely to impact business investments in Germany in 2017.
At the same time, economic activity decelerated in the third quarter of 2016 as weak global trade and slow recovery in the euro has impacted exports. The German economy is highly reliant on exporting specialized investment goods, but these remained weak in 2016, and weak exports generally lead to declines in domestic business investments.
Other factors
However, Germany's household demand provided much-needed support in 2016, and the strong labor market raised household incomes, thereby boosting private consumption during the year. Still, rising inflation from higher oil prices is expected to reduce purchasing power in 2017, limiting the growth in consumption.
According to the interim economic outlook offered by the OECD (Organisation for Economic Co-operation and Development) as of March 2017, German economic growth is expected to remain robust at 1.8% for 2017. Notably, this estimate represents an upward revision of 0.1%, as compared to its November outlook of 2016.
European ETFs (exchange-traded funds) (HEDJ) (FEZ) had a remarkable year in 2016, gaining about 19% and 11%, respectively. Some of the big companies included in various ETFs include Siemens (SIEGY), Sanofi (SNY), Bayer, and SAP (SAP).
Now let's look at the rising consumer confidence in Germany and its impact on the market.