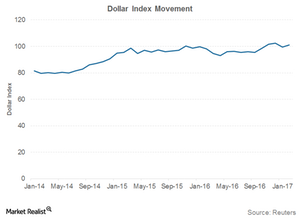 What a Strong US Dollar Means for the US Hotel Industry
International travel to the United States
The US dollar has been rallying against other currencies in the last four years. The strength of the US dollar measured against currencies that are widely used in international trade is measured by the Trade Weighted Dollar Index.
The index rose from 95.54 at the beginning of 2016 to 100.73 at the end of 2016. However, year-to-date, the dollar index has fallen 0.12% in 2017. This fall has been due to President Donald Trump's strong anti-dollar rhetoric.
However, as most strategists have confirmed, a weak dollar isn't sustainable given Trump's tax, trade, and fiscal stimulus policies. In fact, according to Goldman Sachs, the dollar is currently undervalued.
Article continues below advertisement
Impact of strong dollar
International travelers form a considerable share of hotel industry sales. According to the American Hotel and Lodging Association, international travelers are expected to increase at a 29% compound annual growth rate to 96.4 million visitors. The United States gets most of its international visitors from China, Japan, the United Kingdom, Mexico, and Canada. The US dollar has appreciated considerably against the currencies of all these countries.
The strong dollar has created a strong headwind for international travelers, who may look for alternative tourist destinations. The strong dollar also affects lengths of stay and the way international tourists spend.
You can get exposure to the hotel sector by investing in the First Trust Consumer Discretionary AlphaDEX ETF (FXD), which invests ~14.8% in the hotels, restaurants, and leisure sector. It holds 0.58% in Wyndham Worldwide (WYN), 0.87% in Hyatt Hotels (H), 0.90% in Hilton Worldwide Holdings (HLT), and 1.2% in Marriott International (MAR).
Next, let's look at the performance of the hotel sector in 2017.