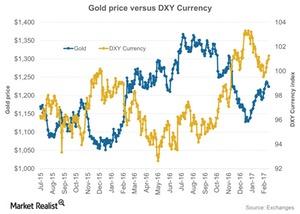 How Have US Dollar Losses Played on Gold?
By Meera Shawn

Updated
The falling US dollar
Aside from the haven bids that drove precious metals higher on Friday, March 24 (following the failure of President Trump and the US House of Representatives to bring a new healthcare bill to a vote), another important factor driving the price of these metals was the US dollar (UUP). The dollar also took a fall last week.
The DXY index, which measures the dollar against the basket of six major world currencies, tumbled to 99.6 on Friday, from as high as 100 a few days previously. DXY has lost almost 2.5% since the beginning of 2017 and has fallen about 1.5% over the past 30 trading days. The US dollar is almost at its four-month low levels and is witnessing the worst drop since November 2016.
Article continues below advertisement
Inverse relation
Any fall in the dollar makes dollar-denominated assets less expensive for investors in other countries. Conversely, the stronger the US dollar gets, the more difficult it is for investors from other nations to invest in dollar-based assets like precious metals (GLD). For this reason, we most often think of precious metals and the US dollar as inversely correlated.
But although precious metals have risen over the past few days, precious metal mining stocks have suffered. Most of the time, precious metal stocks are known to follow the precious metals themselves. But Cia De Minas Buenaventura (BVN), Aurico Gold (AUQ), Kinross Gold (KGC), and Coeur Mining (CDE) have all posted losses over the past five trading days.