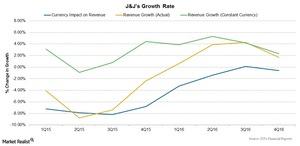 Johnson & Johnson's Revenue Trends
By Mike Benson

Updated
Johnson & Johnson's revenue trends
Johnson & Johnson's (JNJ) top line increased 2.6% to ~$71.9 billion for 2016, driven by an operational growth of 3.9% in revenues, which was offset by the negative impact of foreign currency of 1.3%.
The chart below shows that foreign exchange rates had a constant negative impact on the company's growth rate in each quarter. This is mainly because more than 47% of JNJ's total revenues are reported from sales outside the US. The company operates more than 134 manufacturing facilities and eight innovation and research centers worldwide.
Article continues below advertisement
4Q16 performance
Johnson & Johnson's (JNJ) top line increased 1.7% to ~$18.1 billion for 4Q16. Its top line was driven by operational growth of 2.3% in revenues, which was offset by the negative currency impact of 0.6%. At constant exchange rates, the Consumer segment's revenues rose 4.9%, the Pharmaceutical segment's revenues grew 2.6%, and the Medical Devices segment's revenues grew 0.6% during 4Q16.
Johnson & Johnson's revenues have increased over the past few years following the restructuring of its business segments, as well as the strong performance of its key products such as Xarelto, Zytiga, Remicade, Stelara, and Olysio.
Geographically, the US markets contributed nearly 52.5% of total revenues at $9.5 billion for 4Q16, an increase of 2.6% in revenues compared to 4Q15. Its international markets reported operational growth of 1.9%, partially offset by the negative impact of currencies.
Among its key drugs, Stelara competes with Amgen's (AMGN) and Pfizer's (PFE) Enbrel, as well as Abbott Laboratories's (ABT) Humira. Zytiga competes with Dendreon's (DNDN) Provenge.
To divest any company-specific risk, investors can consider funds like the Fidelity MSCI Healthcare Index ETF (FHLC), which holds 8.8% of its total assets in Johnson & Johnson.