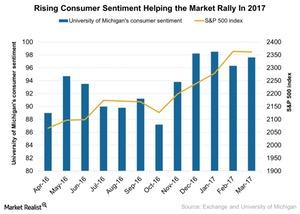 Is Rising Consumer Sentiment Helping the Market Rally in 2017?
Markets surge on rising consumer sentiment
The S&P 500 Index (SPX-INDEX) has posted a rise of ~5% since the beginning of 2017, with banks and energy stocks leading the rally as of March 29, 2017. The major reason for the rally has been rising consumer confidence in the United States. According to data from The Conference Board, the Consumer Confidence Index stood at a record 125.6 in March 2017, its highest level since December 2000.
According to Howard Marks, the recent rally in the market has mostly been driven by President Donald Trump's pro-business policies. However, Marks is unsure whether all of Trump's policies can be implemented.
Article continues below advertisement
Consumer sentiment rising due to advances
The preliminary reading of the University of Michigan's consumer sentiment for the United States rose to 97.6 in March 2017, compared to 96.3 in the previous month. The March reading exceeded the forecast of 97. Optimism about improved business activity and the newly elected president has boosted consumer confidence and helped the market rally.
However, consumer confidence may be at risk if the Trump administration doesn't fulfill its policy expectations. Following last week's failure of the healthcare legislation backed by President Trump, consumer confidence could falter in the next few months.
US consumer confidence rose to a 16-year high in March 2017, mainly due to the following macroeconomic factors:
labor market optimism due to employment's rising a robust 227,000 jobs in January 2017
narrowing of the goods trade deficit and rising inventories in February 2017, which are expected to raise GDP growth estimates for 1Q17
rising house prices in January 2017, with sales of new single family homes hitting a seven-month high in February 2017
Some of the top-gaining ETFs in 1Q17 included the Global X Uranium ETF (URA), which rose ~18%, and the SPDR S&P Biotech ETF (XBI), which rose ~17%. Some of the companies included in these ETFs are Cameco (CCJ), Kite Pharma (KITE), Clovis Oncology (CLVS), and Celgene (CELG).
Let's look at the bond market's performance in the rising interest rate environment in our next article.