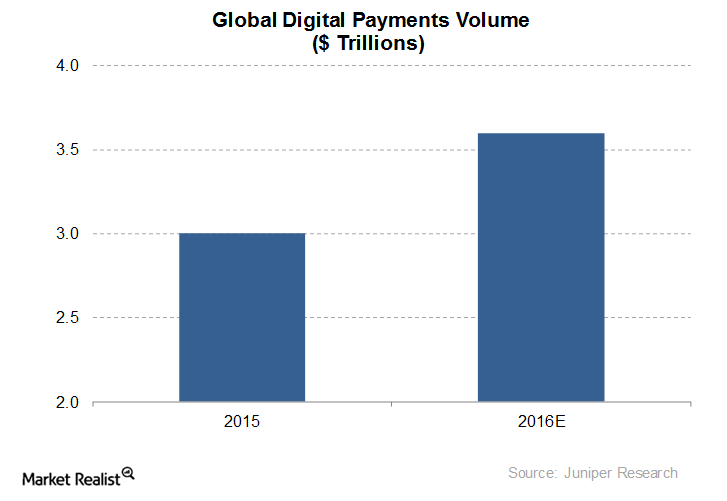 Is IBM Plotting to Put PayPal Out of Business?
Buying shoes?
IBM (IBM) announced in February 2017 that it was teaming up with Visa (V) to enable people to pay for goods and services through virtually any connected device.
In the digital payment space, IBM has ambitious dreams, such as enabling your shoes to remind you when you need a new pair and recommending you shoe stores.
Article continues below advertisement
Digital payment market size
IBM could also enable cars to alert drivers when parts need replacement, with drivers simply pushing a button on the dashboard to order a new part. IBM is leveraging its Watson technology to enable payments through objects that people interact with in their everyday lives.
Global digital transaction volumes rose to $3.6 trillion in 2016, compared to $3 trillion in 2015, according to Juniper Research estimates and as shown in the chart above.
PayPal on the receiving end
IBM's payment partnership with Visa is part of its growing competitive attack on PayPal (PYPL). The deal should help Visa to expand its number of digital payments, increasing competition for PayPal, whose platform is popular with millions of online merchants and shoppers. The company finished 4Q16 with 197 million active user accounts, growing from 179 million a year earlier and beating the consensus estimate of 196.5 million.
PayPal faces the risk of market share losses as legacy payment providers such as Visa and MasterCard (MA) team up with technology giants such as IBM to modernize their payment systems. PayPal also faces a competitive threat from emerging digital payment providers such as Square (SQ) and Apple (AAPL).