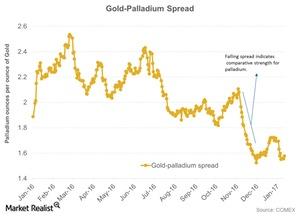 Industrial or Precious? Where the Gold-Palladium Ratio Is Headed
By Meera Shawn

Updated
Palladium: industrial or precious
Among the four precious metals, palladium has been the most resilient for the past few months and has outperformed the other three precious metals so far this year. Palladium has seen a YTD (year-to-date) rise of 13.5%, while gold has risen 5.4% during the same time frame. These two metals were trading at $1,231 and $786.3.40 per ounce, respectively, as of March 7, 2017.
Like silver, palladium is also used excessively as an industrial metal, and its demand may surge based on the economic outlook. Among its metal peers, palladium reacts more or less in sync with other industrials.
Article continues below advertisement
What the ratio stands for
The above graph shows the performance of the gold-palladium spread. The spread measures the number of palladium ounces it takes to buy a single ounce of gold. The higher the ratio, the weaker palladium is compared to gold, because more ounces of palladium are needed to buy an ounce of gold. This ratio was trading at ~1.57 as of March 7, 2017.
To be sure, the gold-palladium spread has seen its ups and downs over the past few months, but of late, once again, palladium is overtaking gold. Notably, the spread fell substantially during the last quarter of 2016.
RSI levels
The RSI (relative strength index) for the gold-palladium ratio is 55. Remember, an RSI level above 70 indicates that an asset has been overbought and could fall, whereas RSI below 30 indicates that an asset has been oversold and could rise.
Why does this matter? Fluctuations in these precious metals are closely reflected in funds such as the ETFS Physical Palladium (PALL) and the Physical Swiss Gold Shares (SGOL). Precious metal mining companies that have recovered from the fall in the last quarter of 2016 include Pan American Silver (PAAS), Kinross Gold (KGC), Silver Wheaton (SLW), and IamGold (IAG).