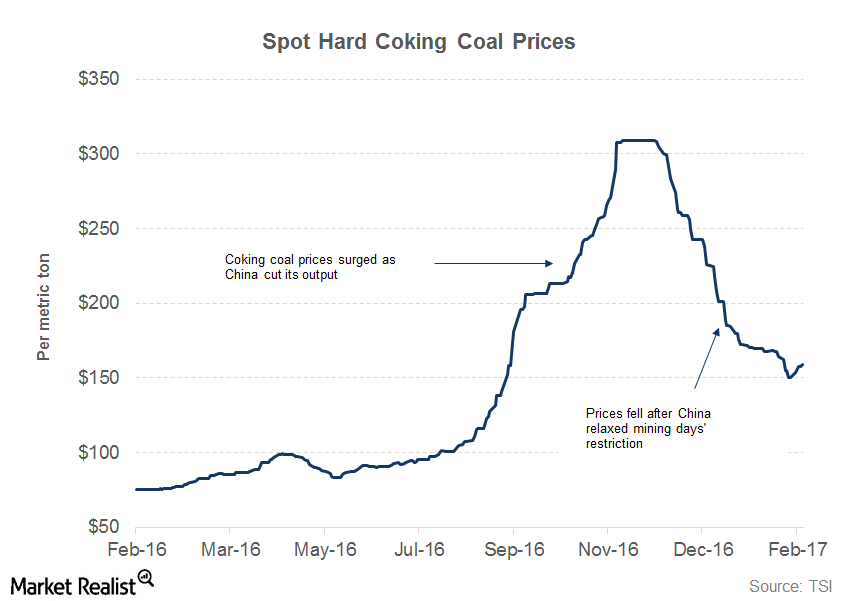 How Raw Material Prices Could Impact U.S. Steel's Performance
Raw material
Steelmaking is raw material–intensive in nature, and raw material pricing tends to impact steel companies' profitability. Integrated miners such as U.S. Steel Corporation (X) and ArcelorMittal (MT) use primarily iron ore and coking coal, whereas mini-mills such as Nucor (NUE) and Steel Dynamics (STLD) rely more on steel scrap.
When raw materials such as iron ore and coal are trading higher, the steel companies that produce them through captive mines are at a competitive advantage. ArcelorMittal is among the top five iron ore miners in the world. The company's mining operations stand to benefit from rising iron ore prices.
ArcelorMittal's mining operations generated an operating income of $203 million in 4Q16, almost double what they generated in 3Q16.
Article continues below advertisement
U.S. Steel's performance
Looking at U.S. Steel, the company is self-sufficient in iron ore needs in its US operations (MDY) (MID-INDEX). Last year, the company announced that it would also sell iron ore pellets to third parties.
As we noted in the previous part, U.S. Steel has already settled its coal contracts for its US operations. This means that the company is largely immune from volatility in raw material prices in its US operations.
However, U.S. Steel's Europe operations are exposed to volatility in raw material prices (AKS). The company buys coal and iron ore from third parties in Europe where pricing tends to fluctuate in accordance with prevailing market prices.
In the next article, we'll discuss how could this impact U.S. Steel's 2017 guidance.