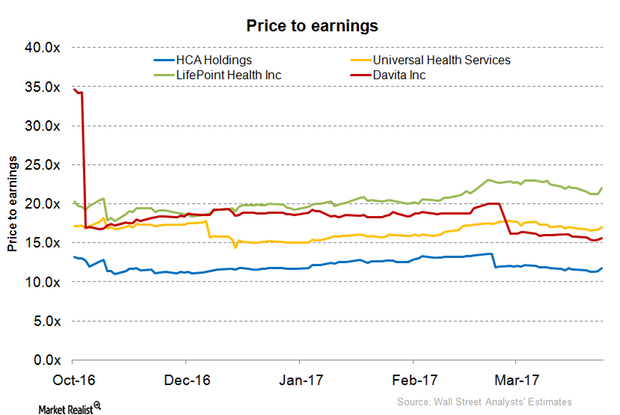 Which Hospital Stocks Are Expected to Benefit Most?
Trumpcare and Medicaid program
The American Health Care Act, also known as "Trumpcare," failed. It's considered to be a boon by hospital companies treating a significant portion of Medicaid members.
If Trumpcare would have been implemented, ~14 million people, including five million eligible for Medicaid, would have lost their health insurance coverage in 2018.
The new bill also wanted to restrict coverage for mental health and addiction care services. It would have allowed Medicaid plans not to cover the services. It would have impacted over 1.3 million patients.
Article continues below advertisement
Valuation multiples
After a sell-off of hospital stocks in November 2016, major hospital companies such as HCA Holdings (HCA), LifePoint Health (LPNT), Universal Health Services (UHS), and Davita (DVA) have been trading at forward PE (price-to-earnings) multiples of 10.0x–20.0x.
LifePoint Health has been performing better than its peers due to its focus on non-urban communities and rural populations. Expansion of Medicaid coverage helped provide insurance for low-income patients—a major part of LifePoint Healthcare's customers. The continuation of the Affordable Care Act, also known as "Obamacare," helped boost investor sentiment for the company. Its stock rose ~5.2% from $59.95 on March 23, 2017, to $63.10 on March 27, 2017. To learn more about LifePoint Health's key markets, read LifePoint Hospitals' Geographic Strategy.
As a leading mental health services provider, Universal Health Services is also expected to benefit significantly from the new healthcare bill's failure. Universal Health Services witnessed a rise in its share price of ~6.0% from $118.83 on March 23, 2017, to $125.97 on March 27, 2017. To learn more about Universal Health Services' behavioral health segment, read Exploring Universal Health Services' Behavioral Health Services Business.
The developments might also boost share prices of the First Trust Health Care AlphaDEX Fund (FXH). Universal Health Services and LifePoint Health account for ~2.5% and 2.3% of FXH's total portfolio holdings, respectively.
In the next part, we'll analyze how Trumpcare's failure impacts health insurance stocks.