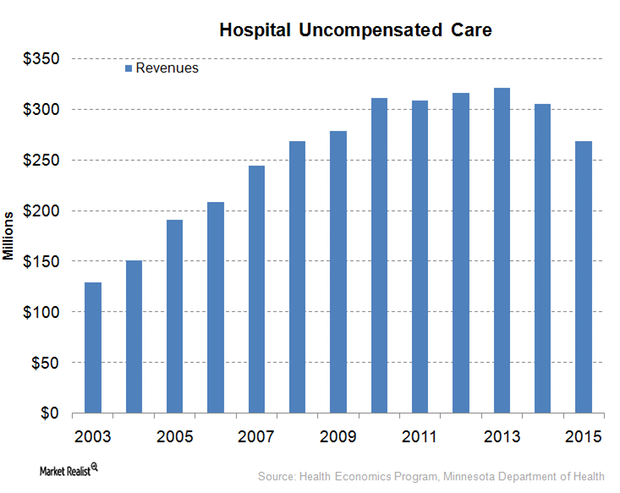 Hospital Industry Reacts to the Failed Healthcare Bill
Healthcare bill
On March 24, 2017, House Speaker Paul Ryan pulled back the American Health Care Act, also known as "Trumpcare," before votes were cast. The new bill was proposed to repeal and replace the Affordable Care Act, also known as "Obamacare." However, the bill wasn't supported by Democrats and even some Republican moderates. As a result, President Trump and House Speaker Ryan had to delay the vote for the bill.
Article continues below advertisement
Article continues below advertisement
Markets didn't respond kindly to the defeat of the ruling party. For the past seven years, repealing Obamacare has been on top of the Republican Party's agenda. Getting rid of Obamacare was also a major campaign point for President Trump. Failure to garner enough support to pass the bill might be perceived as the Trump Administration's inability to implement reforms.
Investors are concerned about whether President Trump will be able to garner enough support for other pro-business bills such as the proposed tax overhaul and other regulatory reforms. The healthcare bill's defeat sparked uncertainty. The Republican Party isn't supporting President Trump's views.
Hospital shares are up
During the chaos, hospital company shares witnessed a strong rally. By increasing the scale and scope of health insurance services, Obamacare helped control hospitals' bad debt expenses. The above chart shows that hospital uncompensated care fell significantly after Obamacare was implemented.
Historically, bad debt expenses have been a major impediment for hospital companies' profit margins. Hospital companies such as HCA Holdings (HCA), Universal Health Services (UHS), Acadia Healthcare (ACHC), and LifePoint Health (LPNT) have been aggressively reducing exposure to the out-of-pocket payer group to control bad debt expenses. To learn more about bad debt expenses, read Understanding Hospitals' Bad Debt Expenses and Profitability.
Since Trumpcare planned to reduce premiums by eliminating certain essential services required by Obamacare in a health plan, it would have resulted in hospitals dispensing more uninsured services. The failure of the new healthcare bill improved investor sentiment for hospital companies and the iShares U.S. Healthcare Providers ETF (IHF). HCA Holdings, Universal Health Services, Acadia Healthcare, and LifePoint Health account for ~4.8%, 3.0%, 1.4%, and 1.2% of IHF's total portfolio holdings, respectively.
In the next part, we'll analyze which hospital stocks are expected to benefit most from the failed healthcare bill.