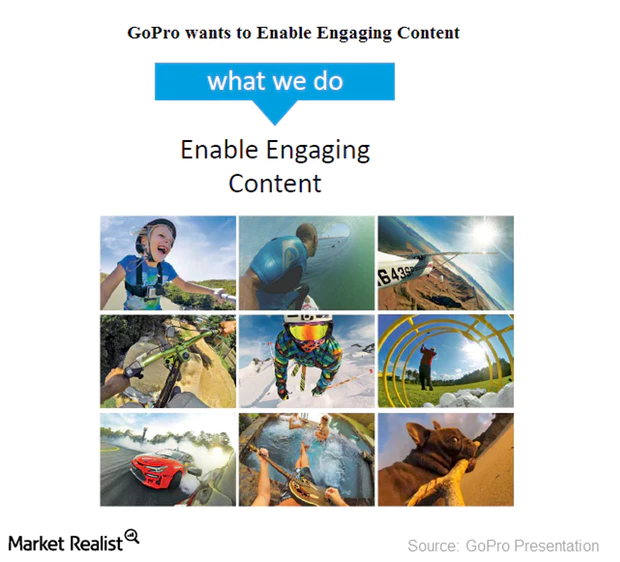 How Is GoPro Enhancing Customer Experiences?
Enhancing the user experience
Consumer tech firms such as GoPro (GPRO), Fitbit (FIT), and Apple (AAPL) are trying to build an ecosystem to improve customer experiences. During GoPro's 4Q16 earnings call, the firm stated that it wants to make GoPro products central to the smartphone experience. Customer engagement will also ensure repeat purchases, as well as regular product upgrades, and GoPro wants to create an ecosystem that will positively impact user experiences.
GoPro has also stated that it is now moving from being a "Capture Solution" company to a company that provides an experience as well.
Article continues below advertisement
During the Goldman Sachs (GS) tech conference in February 2017, COO (chief operating officer) Charles Prober stated: "We are now at a place where we have an experience that we can start to get behind from a marketing perspective, and a big change in focus for our marketing team this year is going to be much more about marketing the experience as opposed to marketing the capture capabilities."
Access to the cloud
As we discussed in the previous part of this series, GoPro Plus (GPRO) is a cloud-based subscription service that lets users easily access, share, and edit GoPro content from anywhere using a smartphone or a personal computer. GoPro aims to simplify the entire experience of capturing, editing, and sharing content. The GoPro Plus subscription service costs $4.99 per month and supports all camera models.
GoPro (GPRO) customers can now upload content to the cloud and access the same through the firm's Quik application. With this application, users can produce original videos from GoPro products as well as footage from their own smartphones. Splice is another application and eases the process of custom editing.
Both apps have almost doubled their combined MAUs (monthly active users) to over 4 million since rebranding in May 2016. These apps have been downloaded more than 40 million times at the end of 2016. GoPro also introduces software releases for mobile application updates once every six weeks.
Now let's discuss GoPro's sales in Asia.