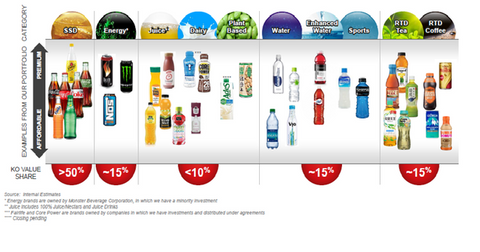 Coca-Cola and PepsiCo by Portfolio: A Better Choice Strategy
By Sirisha Bhogaraju

Updated
Better choices
In Part 2 of this series, we mentioned how the still beverage or noncarbonated beverage category of Coca-Cola (KO) and PepsiCo (PEP) is outperforming the soda beverage category. The still beverage category includes bottled water, sports drinks, juices, ready-to-drink tea, and ready-to-drink coffee. These are considered to be better choices than conventional soda beverages.
Article continues below advertisement
Expanding portfolios with better choices
Nonalcoholic beverage companies see tremendous opportunities in the better-for-you product categories. In fiscal 1Q17, Coca-Cola announced the launch of Gold Peak ready-to-drink tea lattes and coffees. Coca-Cola also intends to expand Smartwater and Honest Tea to more markets.
In fiscal 2016, PepsiCo's "guilt-free" products constituted ~45% of its net revenue. For PepsiCo, "guilt-free" products include everyday nutrition products, beverages with fewer than 70 calories per 12 ounces, and snack food with low levels of sodium and saturated fat.
PepsiCo has a strong portfolio of noncarbonated beverages, including Aquafina, Gatorade sports drinks, and Lipton ready-to-drink teas. In 2017, PepsiCo launched LIFEWTR, a premium purified water that's pH balanced with electrolytes. Other interesting innovations by PepsiCo include Tropicana Essentials Probiotics, Naked Cold Pressed juices, and Quaker Breakfast Flats.
Article continues below advertisement
R&D and acquisitions
PepsiCo is also investing heavily in research and development for the innovation of better products. The company is investing in advanced manufacturing technologies, such as proprietary frying innovations that can reduce the fat content in a potato chip by 20%.
Nonalcoholic beverage companies are also looking for portfolio expansions of healthier products by way of strategic acquisitions. In 2016, PepsiCo acquired KeVita, a maker of fermented probiotic and kombucha beverages.
On March 28, 2017, Coca-Cola announced the completion of the acquisition of Unilever's (UL) AdeS plant-based beverage business. Coca-Cola's other strategic acquisitions include a 30% stake in Suja Juice, a minority stake in Nigeria's Chi Limited, and a minority stake in Aloe Gloe, an aloe water beverage company.
We'll look at the profitability of the beverage giants in the next part of this series.